Don't Lay Any Bets On This Loser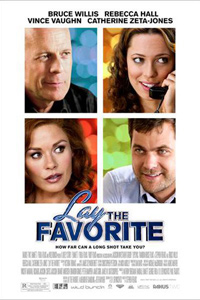 Every once in a while, a great director, an auteur even, will helm such a dastardly atrocious film, that you can't possibly comprehend how such a work could come into being. The great Stephen Frears has such a film on his impeccable resume with this latest turkey, Lay the Favorite. Rebecca Hall stars in one of the worst lead performances ever to grace the cinema screen, playing a ditzy American bobble-head haphazardly drifting through a dull and pointless existence. The only point of degrading comparison would be Elizabeth Berkley in 1995's Showgirls, except, Berkeley's Nomi Malone at least was written as beautiful, ambitious, and strong willed. Hall's performance is the whipped dog/spineless jellyfish female caricature sister of that example (yes, caricature). Adopting a grating, high pitched whine that sounds like Jennifer Tilly crossed with a carny's impression of Marilyn Monroe, Hall bounces across the screen as if she's trying to morph into Jennifer Love-Hewitt's brainless visage (who may have been a better casting choice).
Hall stars as Beth Raymer (this dredge is based on Raymer's memoirs), a stripper making house-calls in Tennessee. Deciding she needs a change, she leaves dad (Corbin Bernsen) behind and decides to try her hand as a cocktail waitress in Las Vegas. There she meets Holly (a ridiculous sounding Laura Prepon) who hooks her up with Dick Heimowitz (Bruce Willis), the owner of Dick Inc, a sportsbook system he has learned to work (legally) to his advantage. It turns out the dimwitted Beth is good with numbers.
With her voice registering several different octave levels during the next portion of the film, a romance soon develops between Dick and Beth, much to the chagrin of Tulip (Catherine Zeta Jones, borrowing Faye Dunaway's plastic surgeon and camp act, it seems) who demands that Dick fires Beth. Unsure of what to do, Beth flees to New York to live with an old flame, a journalist (Joshua Jackson) who has more brotherly affection than passionate romance with her. It's not long before she's involved with the sportsbook system in New York (where the racket is illegal) with Rosie (Vince Vaughn). But things spiral out of control and Dick and Tulip must fly to New York to rescue the mess Beth got herself into.
Truth be told, there is not one redeeming scene in Lay the Favorite that makes the film even moderately entertaining. It's one cringe inducing embarrassment one frame after the other, with particular highlights like Hall and Willis singing a song by The Holly's at the top of their lungs in Vegas, or every scene that has Willis mooning deliriously over the coltish Hall. With the exception of Vince Vaughn, every actor involved in this mess should be publically flogged. Willis' attempted chemistry with Hall is disturbing at best, and what in the world has happened to Catherine Zeta-Jones, looking so transformed that the film's insistence on giving her a face-lift in the movie seems mean-spirited?
The worst culprit is Frears—what the hell was he thinking? At least Showgirls reaches that rare zenith of so-bad-it's-good cinema that a perennial viewing is a great event for friends and family. Lay the Favorite, if viewed once, should never be viewed again, and is at the same level as 1996 turkey, The Trigger Effect—broad, flat, lugubrious, the worst example of filmmaking that exists. Let's hope Frears isn't at the beginning of slump. The last place this film belongs is at a world renowned film festival, revealing itself to be on the same level as the hundreds of direct to DVD flicks you can get at Redbox.
Reviewed on January 22 at the 2012 Sundance Film Festival – PREMIERES Programme.
100 Min