Reviews
The Leisure Seeker | Review
Enduring Love & Fading Memories: Disappointingly Competent Road Movie Via Virzì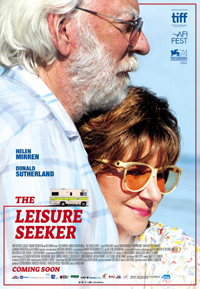 Heavyweights Helen Mirren and Donald Sutherland take center stage in this mildly entertaining dramedy about an elderly couple crossing the country in their vintage Winnebago RV. While such meaty parts for two great actors (increasingly confined to supporting roles) are certainly welcome, they mostly paper over the many cracks of Italian director Paolo Virzì's first English-language effort.
Taking off in their old camper — the eponymous 'Leisure Seeker' — for one more family trip when nobody expected them to (their son is positively freaked out upon discovering the empty house and garage), Ella and John Spencer leave New England with the ambitious plan of reaching Key West and finally visiting Ernest Hemingway's house. John, a retired English professor suffering from early-stage Alzheimer's, can sometimes forget the names of his own kids but will still patiently explain the secrets of Hemingway's prose to random people on the road; plus, he remains an exuberantly capable driver, which is why Ella brushes off her family's concerns about the trip and soldiers on, perhaps with a plan within the plan.
Alternating frailty, stubbornness and rage, Mirren has a lot to work with as Ella, somehow blazing past the unconvincing South Carolina accent to assert herself as the purposeful force in this couple. And yet, as jarringly and repeatedly signaled by Virzì, she has a condition of her own which will blur the lines of the relationship. Dispensing with any subtleness from the get go, the movie manages to at least settle into a nice rhythm once Ella and John are on the road. There's a well-timed musical cadence to this sequence of vignettes, expertly leveraging John's illness to have him inhabit a different side of his character every time he wakes up – the jealous husband, the enthusiastic professor, the overgrown child on a trip, etc.
As a tender exploration of elderly romance, The Leisure Seeker definitely holds up, but you can't shake the feeling the whole thing is insultingly shallow on closer scrutiny. You can see it in the obnoxious portrayal of John and Ella's adult children (Christian McKay and Janel Moloney), even though the movie has clearly no interest in them; and especially in the casual inclusion of uncommitted political references — Trump's presence creeps up here and there, first as background car radio noise, then as a campaign rally that John wanders into. It's nothing essential to the story, but it's infuriating that Virzì (who wrote the script with regular collaborators Archibugi and Piccolo from Michael Zadoorian's novel) feels compelled to include it anyway, and in such touristy fashion.
The problem is not that Virzì is a foreigner, either. In a way, he's perfect for this — and it surely suits him better than Sorrentino, for instance — since his cinema feels touristy in Italy, too. It's no coincidence that he managed to transcend the confines of his native Tuscany so successfully, morphing from a filmmaker defined by his own territory (Ovosodo remains perhaps his most authentically vibrant film) to an itinerant cantor of regional idiosyncrasies (capturing with his 'ripped-from- the-headlines' superficiality the spirit of contemporary Rome and even the northern Brianza region in the acclaimed The Human Capital).
He has a reputation for being a keen social observer, but The Leisure Seeker confirms once again (especially after 2016's Like Crazy) that only works when he keeps his camera peeled on the characters, without broadening the focus. Virzì is on solid footing when it comes to balancing laughs, tears, and the bittersweet vastness between the two. This is, after all, the real signature of Italian cinema if ever there was one, and Virzì can feel this stuff in his bones.
If Sutherland and Mirren will nonetheless get some recognition for their work here, the biggest casualty might be DP Luca Bigazzi, arguably the best lenser in Italy — though you wouldn't guess that from The Leisure Seeker's vintage patina style and uninspired camerawork.
Reviewed on September 9th at the 2017 Venice Film Festival – Competition. 111 Mins.
★★/☆☆☆☆☆