Reviews
Les êtres chers | 2015 TIFF Review
Sowing the Seed of Love: Émond Prescribes Depression Medicine for Two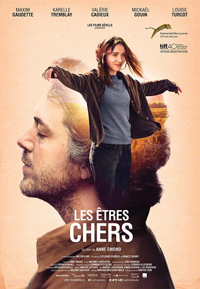 In Zizekian logic, there are the unknown knowns, that is to say, there are things that we fail to admit to knowing. In Anne Émond's subtly devised, multi-decade spanning family drama, there is a general and generational sentiment that the unknown is best kept secret in order to protect the next of kin. While her boldly truculent debut Nuit #1 delved into urban solitudes and wore all feelings on its sleeveless sleeves, set in a caring and loving family nucleus in a rural backdrop, the French Canadian helmer's sophomore feature (known internationally as Our Loved Ones) is more curious about the unexplained and what is not being said. While some of the coming-of-ager sequences tucked in the denouement are a tad too overreaching, it's with an assured, sensitive, sympathetic hand that Les êtres chers deftly explores the dark matter that are not only found on the edges of the forest, but in the shared father-daughter fusional psyche as well.
Not unlike Nuit #1, Émond begins with a bang – but of a wholly different nature. The Leblanc family are a tight knit group, so much so that sometimes not all siblings are in the know. Along with inheriting the woodworking tools from his suddenly departed father, there's an air of protectionism that has been passed down and surrounds David. Intelligently conveyed by actor Maxim Gaudette (Denis Villeneuve's Polytechnique and Incendies), for the better part of the film's run time, his character is a loving, kind spirit, emotionally stable type who plays the patriarch to his adult siblings, and his own family unit of four.
Set in a seasonal shapeshifting small village in Quebec's Lower Saint-Lawrence, you would not know it from the get-go, but the major focus in Émond's text is invested in the father and daughter dynamic. Around the midway point, the protagonist atom includes a teenage version of Laurence. Played by a Karelle Tremblay from Mathieu Denis' Corbo fame, Laurence is a strong willed, sensitive type just like her father, but is more acutely aware of the pros and cons of her environment. Part of an exodus that exists for several young adults living outside of Montreal, she too will migrate pursing her outwardly understanding of life via her university studies. An aspiring writer who finds a silent champion in her father, she manages to externalize some of her inner feelings of melancholy towards a worded existentialism. Both are trying to make sense of this languishing acknowledgment that not all is right, and it's in one touching auditorium reading where we sense how the past and the present informs the future and the sort of emotional toil and torch that has been passed on.
In Jean-Marc Vallée's comparable generational spanning ode C.R.A.Z.Y. where the passage of time is acutely chaptered and where the transitional coming of age phase is more outwardly charged, here Émond exerts less energy dramatically and there is less emphasis placed the advancement of time with hair and make-up outfitting the characters with only slight demarcations leaving the restrained performances flood each scene. Here time lingers with a certain pause and reflection, resting on the distilled sentiments on hand that are not easily expressed or addressed. Audible sounds of migrating flocks and rituals of hunting season explore more than just a shift in the earth's positioning and all attached platitudes commonly witnessed in film, and under Émond's chronologically ordered events, there is a sense of renewal and a certain timelessness which allows intricacies of the shared common ground to transpire. Working with a motif in her father's chosen profession, strings work as the tie that binds and visually complements the passed on burden and lineage that has been shouldered onto a daughter who is acutely more aware of her surroundings.
Reteaming with several tech folk from her first outing, cinematographer Mathieu Laverdière coats the Lower Saint-Lawrence and accompanying seasonal changes with a tepid coloring, the subtle shifts in temperature and character temperament imbued in a smaller serene moments with a camera that lingers. Gaudette is remarkable in transmitting the simmering melancholy that permeates especially when the next of kin leaves the nest, while Tremblay radiates with a positivism that attempts to break the cycle, but with a little wisdom keenly wear.
By appearances, Les êtres chers could have stuck to trappings of small town ennui and checked box all the earmarks commonly related to films that focus on suicide, but Émond does one better than several of her male counterparts in tackling what to this day remains a taboo subject in la Belle Province by articulating it in a manner that is subtextually and confrontationally warm, and not easily quantifiable.
Reviewed on September 12th at the 2015 Toronto International Film Festival – Contemporary World Cinema Programme. 102 Mins.
★★★½/☆☆☆☆☆