Let the Corpses Tan! | Review
All that Glitters: Cattet & Forzani Cut Stylish Swath Through Arid Neo-Western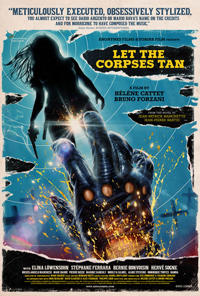 For their third film, Let the Corpses Tan!, another heavily styled recalibration of pastiche cobbled together from extinct methods of 1970s cinematic mayhem, Belgian duo Helene Cattet and Bruno Forzani turn to other sources for their narrative this time around. Adapting a famed 1971 novel from Jean-Patrick Manchette (the first novel of the noted crime writer who scripted films for several auteurs, including Claude Chabrol) and Jean-Pierre Bastid (a provocateur known for films like 1975's The Common Man), the directors of fevered giallo items Amer (2009) and The Strange Color of Your Body's Tears (2013) swirl together essences of the Italian crime dramas and Neo-Western for their latest, headlined by French/Romanian actress Elina Lowensohn as the proprietor of an isolated estate with her writer husband, visited by some crooks, some cops, and the child of his ex-lover.
Bernier (Marc Barbe), a once notable author, remains holed up in his crumbling façade on a precipice overlooking the Mediterranean with his muse and lover, Luce (Lowensohn), a cynical, crusty artist. When a group of men Bernier is acquainted with, led by the grizzled Rhino (Stephane Ferrara), show up by surprise, Luce show no signs of modesty in her daily nude sunbathing routine, which arouses the lascivious attentions of his men. But it seems they have something much more insidious in mind, taking leave from the couple to rob a truck transporting 250 kilograms of gold being transported nearby. On their way back to Luce's, they pick up a trio of hitchhikers headed in the same direction, including Bernier's estranged young wife (Dorylia Calmel), their son (Bamba Forzani Ndiaye), and his nanny (Marine Sainsily). As tensions simmer, a pair of gendarmes (Herve Sogne, Dominique Troyes) arrives, and a ballet of bullets begins.
In keeping with their previous titles, Cattet and Forzani once more exemplify their affinity for wondrously edited frames courtesy of regular collaborator Bernard Beets and DP Manu Dacosse (Alleluia; Evolution), twisting and turning their visual approximations into a visceral extravaganza, of which the aural palette equals the bombastic enthusiasm of its images.
Cutting frequently to a screen capturing the swift passage of time in this dwindling showdown, there's also a repetition of moments told from alternate perspectives. If this seems a familiar offering from the duo, swallowing their potential narrative in an overwhelming stew of hyper exaggerated, excessive style, there are significant rewards to be had, perhaps none so great as a character's fantasy aside when she imagines herself riddled with bullets after considering a daring move, the sound of bullets accompanying the complete shredding and disintegration of her dress. And perhaps best of all are the frequent deviations showcasing a group of shadowy figures credited as Fates, engaged in bizarre body paintings and nude outdoor pseudo-sacrilegious rituals set to the delirious wails of an Ennio Morricone score.
Lowensohn, she of the peripheral arthouse auteur at home (Philippe Grandrieux) and abroad (Hal Hartley, Michael Almereyda), heads a prominent cast of striking visages populating this Mediterranean shoot-out, which plays like the stylish, more serious version of Ben Wheatley's Free Fire (2016).
Those hungry for the spirit of a cinematic tradition long dead can find it joyfully resurrected once more by Cattet and Forzani, who prove as idiosyncratic in their exploration of poliziotteschi as they do giallo in turning a simple-seeming narrative into a topsy-turvy kaleidoscope.
Reviewed on September 14th at the 2017 Toronto International Film Festival – Midnight Madness Programme. 92 Mins
★★★/☆☆☆☆☆