The Little Foxes: Daly's Heartfelt Family Drama Pleasantly Rendered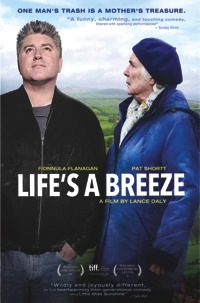 Arriving with a bit more investment than its airy title would suggest, Lance Daly returns to Ireland for his latest film, Life's a Breeze. A simple, working class fable, Daly fills in the schmaltzy pot holes with dry humor, relying on his comfortable cast to sustain the tale's relatable charm. Pared down to a brisk eighty or so minutes, Daly's film never outwears its welcome and proves to be a great showcase for the superb Fionnula Flanagan.
Times are tough for all over, and an extended Dublin family centered on matriarch Nan (Fionnula Flanagan) don't seem to have many monetary options available to them. Her eldest son, Colm (Pat Shortt) is still living with mum and in his late forties, the house a mess with decades of old and useless belongings cluttering the rooms and halls. His only sibling with any means, Margaret (Eva Birthistle), is tired of loaning all her other adult siblings money when she can't even provide daughter Emma (Kelly Thornton) with anything better than two pieces of plain bread and a banana for school lunch. But they all begrudgingly get along well enough. One day, Colm asks Emma to take Nan out on an all-day stroll. The clan is going to clean out and refurbish mom's house for a nice surprise. Only, Nan isn't too thrilled to find that to make it clean, all her belongings were just chucked out. But the real problem is, Nan had a million euros stuffed into her mattress. Soon, the entire family is out digging through trash piles to find that mattress, a story the media soon gets a hold of and blows out of control.
As often frustrating as it is wry, Life's a Breeze is purportedly based on a real incident in Israel. Daly's transplant to Dublin only highlights the universality of greed, a relatable human folly. Luckily, Nan's bickering brood is kept mostly to the sidelines of the film, the focus pared down to Nan's developing relationship with granddaughter Emma and her doltish son, Colm. They are a bit of a thankless lot, and the film could have easily veered into the kitchen sink, especially when rumblings of placing Nan into a nursing home facility are discussed realistically. There's an underlying discomfort running right underneath the bittersweet crust, and it's a muscle that Daly chooses to skirt around. And we already get the point, loud and clear.
Staunch throughout, Flanagan is an astringent force. Her best roles seem to come from Irish directors, as this and McDonaugh's The Guard have provided her with her best material in the past several years. Daly, who received a warm response with his 2008 debut, Kisses, went on to direct the rather uninvolving American thriller, The Good Doctor with Orlando Bloom in 2011, which stands out as even more of an oddity considering Daly's return to this low-key tale.
His strengths seem to lie in telling more compassionate and charismatic narratives. While the film may play on the slight side, it's engaging and enjoyable. The cloying and intrusive score, credited to Daly as well as Declan and Eugene Quinn, is aggravating beyond belief, not to mention wholly unnecessary.
★★★/☆☆☆☆☆