Preparations to Be Together for an Unknown Period of Time | Review
Lover Come Back: Horvat Forges Queasy Love Connection with Projections and Perceptions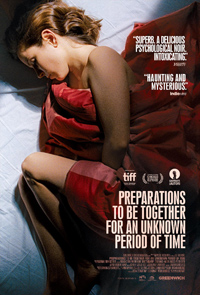 For her sophomore narrative feature, the intoxicatingly titled Preparations to Be Together for an Unknown Period of Time, Hungarian director Lili Horvat mines an exaggerated instance of unrequited love as a hypothetical exploration of the madness, or even possession, of what romantic perceptions can seem like. Transcending the assumptions conditioned as innate across pop songs, literature and film which purportedly convey the essence of being 'in love,' Horvat suggests, if we're to continue in the arena of pop music under the lens of the heteronormatively inclined, the refrain of the classic 1985 Whitney Houston track "How Will I Know."
An attraction and supposed connection which transcends cultures and continents becomes a dubious psychological examination of her protagonist's potential projections of a connection which may have never actually transpired. Intriguing in its insinuations and bolstered by a striking lead performance, Horvat suggests a series of 'what ifs" which recall classic Hollywood narratives reworked in a contemporary era of alienation and estrangement.

Marta (Natasa Stork) is a forty-year-old neurosurgeon who has been leading a prestigious career in New Jersey. This is already in the past, as we learn from her omniscient narration, as she descends upon her native Budapest to rendezvous with a colleague she'd met at a conference in the United States, Drexler Janos (Viktor Bodo). After sharing meaningful stares, the two had met and planned on a rendezvous at the Liberty Bridge on a certain day at a certain time. Quitting her job, she flies to Budapest but the man doesn't show up. Tracking him down, he fails to recognize her. Instead of returning home, she takes an apartment overlooking said bridge and easily finds a job considering her qualifications, albeit a position which places her in the orbit of Drexler, who she comes to realize has a grown daughter. After a series of 'chance' interactions, it's revealed he did recognize Marta, but claims he only remembers they shared a glance. Marta, meanwhile, seeks therapy as she tries to determine if she's indeed made this whole entire romance up in her mind.
Natasa Stork has appeared in minor supporting roles in several films from Kornel Mundruczo, but Horvat's film mines her as a significant discovery, with DP Robert Maly's (who lensed Horvat's 2015 debut The Wednesday Child) camera swooping in on the actor for extreme close-ups during her therapy sessions, as if to suggest this is not only a way for the audience to experience her but a way in which the character actually contemplates herself (the lighting and style of these sequences recalls the allure of Aki Kaurismaki, oftentimes).
Stork has a classically arresting visage, recalling the likes of a Lili Taylor or Dolly Bell in her beauty. One wonders what both Horvat and Stork would have looked like in a New Jersey setting, already far behind in their imaginations in Marta's insistent love trek in Budapest. Her initial re-discovery of Drexler (after he fails to meet at her favorite spot, Liberty Bridge, at their designated time, a la Leo McCarey's An Affair to Remember, 1957) and his rejection of her results in the character's most hysterical behavior as she faints in the street, revived in part by her eventual younger love interest, the forlorn medical student Alex (Benett Vilmanyi). Kudos to Horvat for resisting any predictable sense of a love triangle in an exercise which really ends up being all about the allure of successful romantic entanglements dependent on a lack of communication – in other words, the projection of one's own interests and fantasies which evaporate once the recipient's input is received.
Before Horvat gets to the final, inevitable outcome (it has to resolve somehow, after all), one gets the sense of love, the romanticized version of it, only being possible if there are witnesses in its wake—otherwise, it's like the adage about a tree falling in the woods, someone has to see it for it to have happened. As Marta questions (quite calmly) her state of mind, Horvat's examination of a woman's cool, calm and collected interiority rather peripherally recalls Peter Handke's (much drier by comparison) The Left Handed Woman (1977), which details the opposite of this scenario, a 'conscious uncoupling,' if you will, from the perspective of a woman opting out of a marriage. The use of music (particularly Schubert in this film) lends itself to the particular mood and tone required for this morose sort of debasement faced by Marta, whose return to Budapest courts criticism for her being a foolish woman, even an educated one. Does she have her revenge? Well, it's for your own attitudes and projections to determine.
Reviewed virtually on September 6th at the 2020 Venice Film Festival. Venice Days – 95 Mins
★★★/☆☆☆☆☆