L'ordine del tempo | 2023 Venice Film Festival Review
Time After Time: Cavani Commits Time Crimes in Overwrought Farce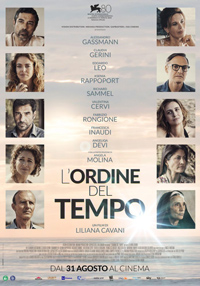 What does time mean when we're all out of it? Thus is the quagmire at the heart of The Order of Time, the first theatrical narrative feature from provocative Italian auteur Liliana Cavani in over two decades. Inspired by (rather than adapted from) Italian physicist Carlo Rovelli's 2017 publication of the same name, which explicates notions regarding the flow of time through various opposing theories, from Aristotle and Newton, to Einstein, suggesting there is no one singular 'now,' but rather a multitude, Cavani approaches these elements through situational drama.
Rovelli, who co-wrote the script with Cavani and Paolo Costella, now exists in the fumes of a hypothetical predicament, his explorations of space-time, the theory of relativity, and thermodynamics instead forming the basis for some leaden passages of dialogue between a group of friends uniting for an annual birthday celebration suddenly consumed with the possibility of dying thanks an asteroid hurtling towards Earth. Although Cavani's genre supplement does allow for some thought provoking moments, it's an unfortunately hackneyed exercise hyper concerned with obnoxious professionals who seem to have just surveyed an Intro to Physics course at a local community college.
Elsa (Claudia Gerini) is about to turn fifty, and as is customary, she has invited her closest friends to celebrate her birthday at her manor on the beach. Her husband Pietro (Alessandro Gassmann) has coerced their reluctant friend, Enrico (Edoardo Leo) to attend because the not-so-secret love of his life, Paola (Kseniya Rappaport) is also in attendance, though she's brought her stuffy, older husband Viktor (Richard Sammel) along. A handful of other guests are already on hand, but the party becomes tense when Enrico is coaxed into revealing his secret news about a global catastrophic risk. An asteroid named Anaconda, traveling at the speed of light, has a one-in-twenty chance of crashing into Earth, and it may very well be their last day of life.
What's most disappointing about Cavani's adaptation of Rovelli's discourse is one can see the compelling direction she was headed in. Initially, there's a sense of encroaching doom transposed upon a modern microcosm of reasonably intelligent, significantly privileged characters, as if the angsty adults of The Big Chill (1983) got tossed into Visconti's adaptation of Thomas Mann's Death in Venice (1971). These associations quickly evaporate, and thus it becomes something more along the lines of Stanley Kramer's 1959 classic On the Beach or the unintentionally comedic cousin to Don't Look Up (2021).
Case in point is the script's treatment of Isabel, the Peruvian maid who is desperate to get back to Lima to see her son (who she hasn't seen since he was an infant) but is forced to cater to Elsa and her guests, mindlessly setting the table while they dance to Leonard Cohen in an abrupt, desperate transition for the film to obtain a sense of catharsis amidst hopelessness. Why Isabel isn't allowed to join in on the revelry when the end is potentially nigh is but one of many reasons why this group are representative composites of a social hierarchy needing a hard reset.
Cavani burrows further into each couple's various relationship woes, showcasing the ridiculousness of denying ourselves the lives we'd rather lead due to various social obligations. Gerini's Elsa (who appears to be Stockard Channing's Italian doppelgänger) apparently holds a flame for her high-school bestie, Francesa Inaudi's Giulia (who annoyingly keeps running off to a local church to confer with Angela Molina as a nun who apparently is also on speaking terms with the Chilean Observatory monitoring the asteroid), while Valentina Cervi and Fabrizio Rongone suffer from nymphomania and latent homosexual impulses they've never bothered to discuss until now.
Kseniya Rappoport's Paola and Edoardo Leo's Enrico, a teacher and physicist, respectively, are at long last able to consummate the romance they've resisted once her husband, Richard Sammel's Viktor (who declares through crocodile tears, "I'm a piece of shit," before he runs away to gaze upon waves crashing on a beach), finally takes a hint. In one of their frequent bouts alone together on Elsa's property, Paola archly tells Enrico, "You're so good at calculating temporal distortions." Faring worst of all is Angeliqa Devi's Jasmine, a journalist who makes a threatening phone call in English regarding her outlet suppressing news of the meteor (though the radio in Peru and Italian newscasts are freely discussing it). Not to be outdone is Elsa's husband, Pietro (Alessandro Gassmann) who has a twelve-year-old secret which pops up without much ado right before the end credits.
One wonders what the energy of The Order of Time might have felt like if Cavani had pushed into more probably indignities, like the unraveling of the couples in Polanski's Carnage (2011), or the vibe amongst humanity's last survivors in Jonathan Nossiter's Last Words (2020), which also showcased artistic cinematic artifacts (here, Cavani adds a dose of Chaplin after video footage of Leonard Cohen singing "Dance Me to the End of Love").
Cavani's tempered portraits of psychologically distressed humans abound through her filmography, from the dystopic The Year the Cannibals (1969), the sexual obsession between a SS officer and his victim in The Night Porter (1974), the abuse of Napolitano women in The Skin (1981), or even Patricia Highsmith's sinister Tom Ripley in 2003's Ripley's Game. Even Cavani's enduring fascination with St. Frances of Assisi (the center of three separate projects she's directed) gets a name drop. Sadly, the vacuous, self-consumed and pretentious ensemble in The Order of Time isn't worth our time, much less their own.
Reviewed on August 30th at the 2023 Venice Film Festival – Out of Competition. 113 Mins.
★½/☆☆☆☆☆