Bastarden (The Promised Land) | 2023 Venice Film Festival Review
The Good Earth: Arcel Inherits the Wind with Romanticized Historical Recuperation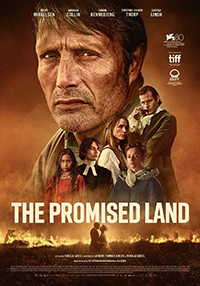 After making his English language debut with the imperiled Stephen King adaptation The Dark Tower (2017), writer/director Nikolaj Arcel returns to mining historical obscurities in his native Denmark with The Promised Land (although its original title, Bastarden, remains the much more provocative and thematically fitting choice). Co-written by one of Denmark's most talented scribes, Thomas Anders Jensen, both reuniting to collaborate once again with their national treasure Mads Mikkelsen, it would seem Arcel was returning to the period formula which anointed his 2012 breakthrough A Royal Affair. Unfortunately, this agonizing tale of classist manipulation arrives in fever pitch and hits all the most obvious, predictable beats. A grueling affair about Danish Captain Ludvig Kahlen, who defied the local land barons by attempting to cultivate the country's barren Jutland heath, therefore diminishing their power, only a customarily sophisticated performance from Mikkelsen rises above the transparency of the film's elemental conceit.
In 18th century Denmark, Captain Ludvig Kahlen (Mikkelsen) applied to King Frederick V to cultivate the heath, which the King's administrators (including Soren Malling) initially deny, considering generations of men, many far nobler than Kahlen, have tried to tame it. However, Kahlen has a secret, having imported potatoes from Germany. He also offers to use his own meager pension to pay for the endeavor, and he's permitted to do so, considering it's a low grade item on the King's agenda. However, the unabashedly cruel and hotheaded landowner Frederick De Schinkel (Simon Bennebjerg) believes he has dibs over the heaths, and stymies every possible attempt to ruin Kahlen. It doesn't help when the local priest (Gustav Lindh, Queen of Hearts, 2019) presents two escaped tenement farmers, Johannes (Morten Hee Andersen) and his wife Ann Barbara (Amanda Collin), who are basically runaway slaves owned by De Schinkel, as wards to for his cause. Tensions escalate, leading to extreme violence, while Edel Helene (Kristine Kujath Thorp), an aristocrat who's expected to wed De Schinkel, offers herself to Kahlen should he succeed in his endeavor. Illegally employing a band of outlaws who reside in the wilderness, Kahlen finds himself drawn to a spunky young girl, Anmai Mus (Melina Hagberg), whom he allows to live in his home, tended to by Ann Barbara. Their promise of happiness, however, is not destined to last.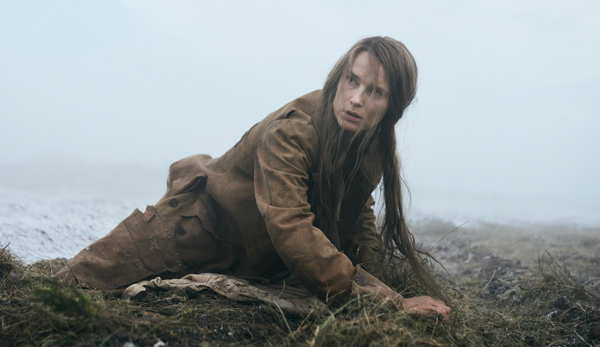 We've seen Mikkelsen in similar form, and, if anything, The Promised Land would make a fantastic double feature with the Arnaud des Pallieres 2013 take on Heinrich von Kleist's classic Michael Kohlhaas, where the actor plays the maligned horse dealer who sets his country ablaze, set two centuries prior. Such is not the destined glory for Kahlen, who just wants to grow some potatoes, for Christ's sake, and inherit the title of Baron for his troubles. But, as he learns a bit too late, there's little worth in struggling to be part of a system designed to disparage you. The script is almost audaciously patronizing in how it sets up the proceedings for Kahlen's eventual emotional investment in Ann Barbara and the child they basically inherit as their daughter, Anmai Mus, a member of the Tatar tribe (which the film doesn't explain is a generalized term for various Turkish ethnic groups). Anmai, who was sold to a band of outlaws living in the forest surrounding the heath, is referred to as a 'darkling,' and Arcel, too obviously, uses her as a dramatic catalyst and as evidence of inherent historical Euro racism, seeing as the German settlers who finally arrive demand her expulsion thanks to her cursed brown skin.
At the very introduction of the obnoxiously vile Simon Bennebjerg as the out of control Frederik De Schinkel (who had the nobiliary particle 'De" added to his name all by himself), one knows exactly what kind of exacting odyssey one is in for as Kahlen suffers comparable trials to that of Job to get his house built and his crops grown. There's enough violence and sexual assault to satisfy those seeking bloodthirsty catharsis, but Arcel's approach seems to be aping Paul Verhoeven if he had ever decided to smear caca over a Jan Troell remake. That's not to say there aren't emotionally palpable moments, thanks mostly to the subtleties of Mikkelsen, who seems to supply a gravitas the narrative scrimps on, though not for lack of trying. We are, after all, led to wanting to bask in his triumph with his chosen family, even if the film too firmly holds our hand up until the end.
Likewise, his interesting relationship with Norway's Edel Hansel, a striking Kristine Kujath Thorp (who was the excellent lead in 2022's Sick of Myself) supplying similar energies as seen in A Royal Affair, is a brief highlight. Like Alicia Vikander in the earlier film, she's representative of how even the 'privileged' women are subjugated and demeaned, but who still have a modicum of agency to use their conniving wits and manipulating destiny (and are, thus, a staple of historical romantic fiction). Arcel's terse end subtitles only confirm Kahlen abandoned King's House, his title invariably revoked. The fantasy interjected in the final moments suggests an improbable but highly romanticized ending for what he might have finally left it all behind for, to which the film receives some merit for suggesting it's always a better option if all of us crabs in the bucket scuttled the damn thing and explored all the potential privileges existing outside of it, just beyond our comprehension.
Reviewed on September 1st at the 2023 Venice Film Festival – In Competition. 127 Mins.
★★/☆☆☆☆☆