Power Alley (Levante) | 2023 Cannes Film Festival Review
That Time of the Month: Halla Offers Ringside Seats to the Courts – Both On and Off
In one's timeline, it's the pre-adulthood teenage years that ought to be a moment to learn not curb your enthusiasm. Self-expression, embracing the torpedo speed changes and being careless at the time. You actually want to make mistakes but in Brazilian filmmaker Lillah Halla's debut, this time period is yellow card level-high dangerous. Coming off the heals of Anita Rocha da Silveira's Medusa (which also looks at the overreach from the religious right from the perspective of tomorrow's youth), micro drama Levante (Power Alley) is a thorny look at the political and social snowball effects of unwanted pregnancy – think Citizen Ruth with even fewer option for female healthcare than Never Rarely Sometimes Always. A rallying battle cry and Molotov cocktail that will play well for the same demo that is put on displayed here, it's a well-meaning, punk attitude, odds are stacked anecdote that is a bit too rough around the edges.
While Levante arrives in a post-Bolsonaro era, by no means does it mean that Brazil is as progressive of a nation (in terms of women's health rights) as its neighbouring countries. Abortion is illegal and the influence of the millions of religious zealots are unlikely to allow for this shift to happen anytime soon – a fascinating paradox for a country that makes carnival an official holiday. Seventeen-year-old Sofia (played by a high-energy screen debut by Ayomi Domenica Dias) is on the fast track to a life-altering scholarship due to her ability to spike a ball on her indoor volleyball squad but those plans are definitely in peril.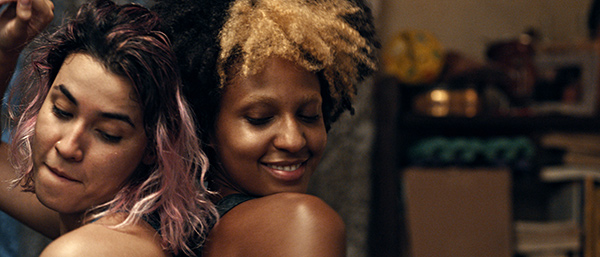 Essentially the screenplay co-written by María Elena Morán and Halla looks at a sect of society who distinctly express themselves by their colorful coifs and clothing and interesting choices in face makeup and beauty masks. On the court they are further united by their team's colors — perhaps this culmination of physically manifesting displaying themselves is a way to diffuse everyday realities and build up people when against a system built to repress them. Prominently featuring people of color and the queer community, this works best as an accurate portrait of those who have fewer opportunities, but unfortunately, it's the several hyper-reality interactions with antagonistic forces and the culmination at the final game where all is on the line that drowns out the calmer personal dilemma – a bit too cartoony for what the filmmaker might want to achieve here.
As a working visual motif, Halla inserts hive, honey and angry bee all juxtaposed to in-fighting by most of the adults in the room. While Levante feels like a vital piece there is a low-budget clunkiness to some of the dramatic elements that would have benefitted from a more ethereal text rather than a heightened one.
Reviewed on May 23rd at the 2023 Cannes Film Festival – Critics' Week. 92 Mins.
★★/☆☆☆☆☆