Sisters | 2022 Warsaw Intl. Film Festival Review
Adult children: Girl Blazes Through Childhood in Olte's Debut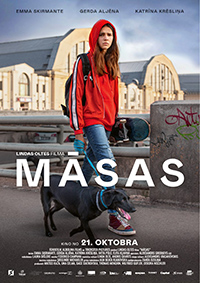 Frantically moving and tweaking, the handheld camera desperately tries not to lose focus of a stone-faced tomboyish teenage girl Anastasia (Emma Skirmante), the protagonist of first-time director Linda Olte's coming-of-age drama Sisters. The opening scene in which Anastasia runs and tries to break through a metal fence commands attention in a way the rest of the film rarely does.
Anastasia has every reason to want to escape. She lives in a Latvian orphanage with her charming little sister Diana (Gerda Aljēna), awaiting the arrival of their potential foster parents from America. Soon she has to decide between moving to the sunny promised land of the USA or staying in the visually and morally grey confines of her depressing hometown. The only thing that stands out in such authentically eastern-European greyness is Anastasia's eye-popping bright red hoodie. Thus, she becomes a modern social-realist little Red Riding Hood, trying to navigate the concrete jungle of her hometown amidst all kinds of dangers. Not the least of which is her unreliable biological mother Alla (Iveta Pole), who appears and disappears from Anastasia's life in a twitch of an eye.
The first half of Sisters delivers a subpar Dardenne brothers copycat, with all the usual social issues explored by the way of in-yer-face naturalism, but without any of the cinematic energy, urgency, momentum, or precise writing that gives a gut-punch quality to the Belgian duos' best films. As Anastasia goes through the familiar motions of delinquency – breaking car mirrors, stashing drugs, shoplifting – Olte strives for edginess and rawness but it all comes off a bit too sterile. Shown with no context or proper build-up, these gestures create a feeling of posturing rather than an authentic expression of gritty street life. We never get a chance to feel fear, anxiety, or thrill accumulating.
Surprisingly, Sisters then takes a much-needed stylistic left turn, marked by the arrival of the American family to Latvia. So what do you get when a god-fearing American couple tries to adopt a delinquent teenager from Eastern Europe? A recipe for disaster and a flavourful comedy of manners. As the grinning Americans try to get used to Anastasia, Olte manages to find a balance between satire and poignancy, so that the couple doesn't end up being only the butt of a joke.
Stuck between two extremes, the suffocatingly optimistic catholic world of the American family on one side and the forbiddingly seductive world of the Latvian city streets on the other, Anastasia ultimately chooses to be herself, fully facing the consequences of such a decision. The last shot of the film shows Anastasia still in motion – skating through the sunny suburban street. Yet the camera that follows her is no longer frantic, chaotic, or handheld. An elegant tracking shot suggests that even though her future remains uncertain she's more peaceful and confident than ever before.
Reviewed on October 19th at the 2022 Warsaw International Film Festival – Competition 1-2. 104 mins. Part of the The Fipresci Warsaw Critics Project.
★★½/☆☆☆☆☆