The Banshees of Inisherin | Review
When Demon Voices Wake Us: McDonagh Charts a Bad Bromance in Dark, Delightful Drama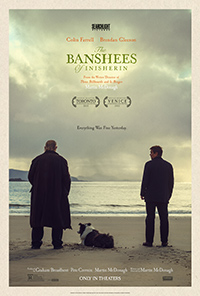 The abrupt end to a lifelong relationship provides the basis for a situation spinning quickly and despairingly out of control in the funny, weird and surprising fourth feature from Martin McDonagh, The Banshees of Inisherin. Reuniting with Colin Farrell and Brendan Gleeson, the duo who headlined his 2008 breakout debut, In Bruges, McDonagh mounts his first period piece with this initially disarming tale of two supposed friends living on an island of the coast of Ireland in 1923 when one of them decides to end the relationship.
Legacy, mortality and depression whirl into a fatal cocktail of anguish, leaving the bereft member of the duo to obsessively attempt to repair what's been torn asunder. A startlingly intriguing group of island denizens bring McDonagh's morbid tale to vibrant life, an aching portrait of the ravages of isolation and discontent.
Far removed from a distant strife on the mainland of Ireland, the citizens on the isolated island of Inisherin are set in their own specific ways and routines. It's a place where secrets simply can't be kept, so when depressed musician Colm (Gleeson) suddenly tells his 'best' friend Padriac (Farrell) he never wants to speak to him again, the latter is emotionally devastated. Citing Padriac's innate dullness as to the reason why and desiring to spend his free time working on some original music before more time slips away listening to Padriac's prattling, the majority of the island folk deem this as either cruel or 'not nice.'
Padriac is one of the nice guys, or so everyone seems to think, even his quiet and intelligent sister Siobhan (Kerry Condon) confirms this. Not accepting Colm's ultimatum, however, proves to upset the older man enough to threaten self mutilation unless he's left alone. Turning to the socially awkward Dominic (Barry Keoghan), who has his own issues and desires he's attempting to satisfy, Padriac pushes the boundary established and devastation ensues.
With his last film, 2018's Three Billboards Outside Ebbing, Missouri having won the Academy Award for Best Picture, McDonagh's segue to a narrative much smaller in scope is refreshingly unexpected. Though his last feature was met with wild success, a broad stroke reckoning with racism and misogyny in the US, McDonagh's sharp pen feels much more comfortable and adept with this scenario of codependent relationships born out of propinquity and poisoned by stagnation.
As civil war rages on the mainland between the Free State and IRA, only the infrequent noise of artillery is the unwelcome reminder of mass scale strife abroad. Farrell's Padraic couldn't be more oblivious, which is a large part of his problem, and the rationale for Colm's virtual ghosting of him without properly predicting the perpetual fallout from such a cruel extrication, especially seeing as force of habit will constantly force them into confrontation. Their dissolving bromance is initially cause for droll comedy, but Colm's depths of despair are slowly revealed to be quite deadly. Threats to cut off a finger each time Padraic violates his wish eventually come to shocking fruition, and like the moral conclusion to a fairy tale, forces his own sacrificial deterioration and failure to accomplish exactly what this divorce would allow him to do.

Farrell is as frustrating as he is routinely charming, a man-boy who has a sweet predilection for Jenny, the miniature donkey he cares for along with a horse and a couple of cows. There's a sublime poignancy in his relationship with his sister, and Kerry Condon is a scene stealer as the gracious Siobhan, whose wit and loneliness is driving her into the tomb of spinsterhood.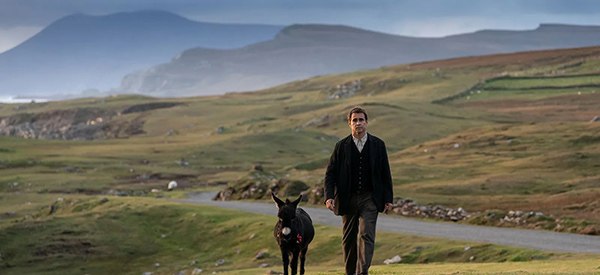 Although considered the town dummy, Barry Keoghan (who starred alongside Farrell in The Killing of a Sacred Deer, 2017) proves to have his own considerable demons as the son of the island's lone policeman, an abusive lout less interested in doing his job than making everyone around him miserable. But it's really Gleeson (in a role not too far removed from his character in John Michael McDonagh's 2014 film, Calvary) who steers this ship into increasingly deep, perilously troubling waters, and the final act of the film drifts into horror territory.
The title of the film is the swan song Colm has been working on, surmising any supposed banshees on the island have grown silent, observing from afar, smugly (McDonagh suggests Sheila Flitton's cranky Mrs. McCormick has the deadly gift of the banshees, supernatural Celtic beings who portend death). DP Ben Davis (who lensed McDonagh's last two features) turns Inisherin and its cliffs into an overcast but beautiful wasteland inhabited by unhappy souls cemented in place.
Reviewed on September 5th at the 2022 Venice Film Festival – In Competition. 109 Mins
★★★½/☆☆☆☆☆