Casualties of War: Berg's Brutal Depiction of Failed SEALS Op Career Best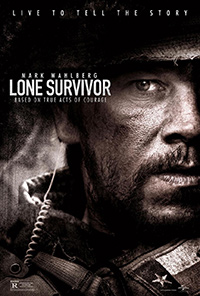 For the purposes of context, one may be interested in noting that Lone Survivor is actor/director Peter Berg's follow-up to his dismal 2012 board-game based effort, Battleship, though originally these projects were meant to be shot in reverse order. Clearly, this film was the labor of love, and while it's not surprising to learn that leading stars took a major pay cut and Berg worked for the minimum salary allowed, it is fascinating to see the heightened quality on display from the same director, cinematographer, editor, composer, and one of the lead actors from the previous effort. Certainly, this film isn't bound to be everyone's cup of tea as Berg has taken pains to create a brutal, distressing, and unashamedly in-your-face depiction of the atrocities of war (and sans a definitive political agenda). He simply relays, without sparing detail, sometimes to distraction, the account of one survivor's story of a compromised Navy SEALs operation. The result is, for Berg and star Mark Wahlberg (who seems increasingly determined to play characters that, on paper, he's at least a decade too old to play), a career best endeavor.
In June of 2005, four members of SEAL Team 10 embarked on Operation Red Wings, a mission to capture or kill notorious Taliban leader Ahmad Shahd, a man who actively targeted agents of the US and had killed twenty marines the week prior to when these events take place. Dropped via helicopter into the mountains, Lt. Mike Murphy (Taylor Kitsch), Petty Officer 1st Class Luttrell (Wahlberg), Petty Officers 2nd Class Matt Axelson (Ben Foster) and Danny Dietz (Emile Hirsch) are able to confirm a visual of Ahmad Shah at a nearby village, but their radio communications are nil, while a SAT phone also proves unreliable. Dropping back into the mountains in order to establish communication, and, therefore, authority to move forward, the quartet is discovered by a goat herd and his two sons, which creates an instant dilemma. They are unarmed civilians, meaning that rules of engagement dictate that they are not to be harmed, which is the argument Luttrell and Murphy stand by, while Dietz and Axelson point out that letting them go, or tying them down (which would also probably result in their deaths), would mean possibly endangering themselves, especially considering one of the sons seems vehemently aggressive towards them. An effort to do the right thing, and thereby avoid any eventual media scandal, sees Murphy decide to release the trio. And it's not long before the Taliban comes looking for them while their equipment prevents them from calling for help.
Whether it's the critical success awarded two recent titles from Kathryn Bigelow or simply the numbing onslaught of time itself, the tide seems to be turning in favor of increased interest in cinematic depictions of the US involvement in the Middle East, which until recently, seemed box office nadir. As director, Peter Berg has experienced the results of this firsthand with his 2007, The Kingdom, the reception of which may have played a heavy hand in his decision to pursues glossy studio fare like Hancock or Battleship.
While its very title, Lone Survivor, aggressively asserts a lack of hope for the lives we're about to witness, its marketing materials featuring half of a Tom Hanks-ish looking Wahlberg as the assumed eponymous individual, Berg manages to avoid apathy with his incredibly well written adaptation of Luttrell's account.
With his quartet of actors on hand as the team of SEALs set to embark on the fated Operation Red Wings, they create a devastating and distressing portrait of lives lost, the consequences of honorably doing the right thing. Sure, there's plenty of masculine posturing in the film's overtly homosocial landscape, but considering we're looking at an incident from 2005, Berg thankfully avoids the specter of homophobia, which could have easily dominated a scene early on in the film, the initiation of the petty officer played by Alexander Ludwig. While default grants Wahlberg leverage here, one should note that, until their tragic ends, Emile Hirsch, Ben Foster, and Taylor Kitsch (finally making good on a potential unrealized in three highly unsuccessful films from 2012), are extremely compelling. While a finale set in an isolated Afghani village where a savior figure played by The Attack's Ali Suliman feels a bit heavy-handed (though this is slightly alleviated by a title card explanation right before the end credits), most of Lone Survivor is gritty, survivalist fare.
Several moments where Berg seems to be exerting some technical prowess, such as one of two very explicitly ferocious cascades down the unforgiving mountain terrain, where the decision to utilize slow motion in order to fixate on the carnage, seem a tad gratuitous, if only for the fact that the slow motion unfortunately draws attention away from the visceral tension we're experiencing. But any distractions pallor in the mind numbing onslaught of hellish intensity, faced by an ensemble that at least equals or surpasses a variety of men and women centered survivalist tales that have graced theater screens this year.
★★★/☆☆☆☆☆