The Lost Daughter | Review
Parallel Mothers: Gyllenhaal Paints a Dark Portrait in Sinister Ferrante Adaptation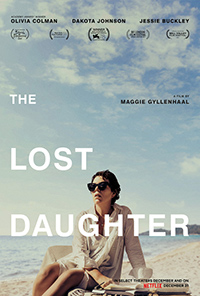 "Attention is the purest form of hospitality," is a quote from Simone Weil utilized in Maggie Gyllenhaal's directorial debut, The Lost Daughter, a mysterious tale of maternal woe adapted from the novel by Elena Ferrante, an infamously mysterious presence herself. The quote is one of Gyllenhaal's several conspicuous touches which enables an understanding of a protagonist from a book built solely through rich interiority. How Weil's statement resonates with an unhappy mother is but one angle of interpretation, and how attention can warp hospitality into toxic obsession is another. Strange and increasingly unsettling, Olivia Colman perfectly embodies Leda, a woman experiencing a different kind of empty nest syndrome during a vacation which triggers unresolved tensions and traumas.
Leda Caruso is a professor in comparative literature at Cambridge. With both her daughters grown and settled in another city, she's finally, deliciously on her own. Taking a "work" vacation on a Greek island, her idyll is brief, interrupted by a noisy familial gang as uncouth as they appear to be socially feral. Annoyed at the intrusion, she's drawn to the melancholic Nina (Dakota Johnson), who totes around a young child, Elena. Through Nina, Leda begins to reminisce about her own troubled history as a young mother, compelled by the same sense of anguish she projects onto the woman. When an incident at the beach allows Leda to rescue Elena, who wandered off, she's greeted enthusiastically by the family who previously had demeaned her (and who are potentially responsible for injuring her after she first encountered them). As a private sort of vengeance, but with potent triggers to her past, she takes the opportunity to steal Elena's favorite doll. However, the child simply cannot get over the loss, turning everyone's lives upside down as the search for the doll continues. Days pass, Nina and Leda grow close, wherein Leda reveals private traumas she's kept close to herself.

Changing the Italian locale to the Greek island of Kypoeli, Gyllenhaal paints Leda's self-loathing in more universal terms, aligning the inconsiderate behavior of the Greek adjacent clan with memories of the desperation she escaped in Leeds. Gyllenhaal manages to convey the evasive characterization with the help of pertinent flashbacks, with Jessie Buckley playing Leda as a young mother whose emotional detachment from her two young daughters results in a necessary but detrimental abandonment. The subject matter in itself, the notion of a mother despising or leaving her children, remains a taboo subject, the exploration of which is nearly always maudlin and quite often results in violence. Ferrante presents an intriguing notion of a woman who remains somewhat prickly and repellant, hating a part of herself for the reality of her feelings whilst simultaneously reveling in the pain and discomfort she can exact in return. It's clear she relates closely to Nina (a raven haired Dakota Johnson, who has never been so well cast as she is here), hence her need to also punish Nina, and by proxy, the obnoxious clan in tow.
Colman expertly conveys the complex intersections of Leda's actions, which out of context might seem insane. Condensed into a handful of interactions (including a reveal Gyllenhaal takes longer to confirm than in the novel), her strength and insecurities make for an exhausting experience thanks to the unyielding anxiety regarding the doll.
So paradoxically inclined to do the right thing (when making a point) while simultaneously making terrible, potentially dangerous decisions, The Lost Daughter is a knot of ambiguities and anxieties. While it seems she needs to learn how to better choose her battles, it plays like a mixture of her way to exert agency, distance herself from her upbringing, and perhaps atone for one mistake she can never take back. Like the fruit basket welcoming her, one only has to turn a situation over to see the rot about to consume it. Joining a fine tradition of cinema, wherein perilously flawed women become enamored with others they interpret to be younger versions of themselves, Leda has a kinship with Gena Rowlands in Another Woman (1987), or perhaps the closeted alcoholic played by Sigourney Weaver in The Good House (2021). Transposing oneself onto the lives of others is an unruly form of expiation.
Gyllenhaal creates some initially banal but increasingly menacing moments with Dagmara Dominczyk as Nina's brassy sister-in-law and Ed Harris as an expat property manager (notably with themes similar to those of The Hours, 2001). Two sequences in particular exemplify how sentiments left unsaid become the most haunting, including Alba Rohrwacher as an empathetic hitchhiker, and the other being Leda's confession to Nina. Depths are revealed between the lines, and a quartet of actors across both scenes instills a devastating reality for their characters.
While adapting Ferrante for a debut is most assuredly a gamble, Gyllenhaal has assembled an exemplary cast and crew, lensed by formidable DP Hélène Louvart, who tends to close us off from the escapist surroundings to focus tightly on women's faces. Composer Dickon Hinchliffe (Winter's Bone, 2010) adds to the sense of menace, perhaps not accidentally, more palpable than in Ferrante's prose. Sharing her name with one of Zeus' many rape victims, Yeats' "Leda and the Swan" casts a long shadow, but its perhaps Auden's "The Crisis," the poem which instigates the catalyzing extramarital affair for Leda (with Gyllenhaal's own partner, Peter Sarsgaard portraying a lusty academic), pulling subtle resonance—"In a mother's distorting mirror/They discovered the Meaning of Knowing."
Reviewed on September 3rd at the 2021 Venice Film Festival – Main Competition. 121 Mins
★★★½/☆☆☆☆☆