Live Hard, Sell Hard: Jacobs' Fluffer Sequel Has One Track Mind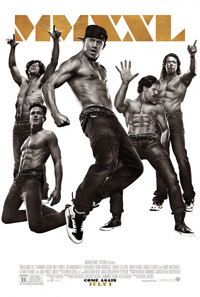 Considering the interest and financial success of 2012's Magic Mike, it's no surprise to see its shimmery abdominal muscles make a robust return with a bigger, broader, and unapologetically upbeat sequel, Magic Mike: XXL. With original director Steven Soderbergh still undergoing his self-imposed retirement from 'film' directing (he returns as cinematographer here), assistant director Gregory Jacobs takes the reins. Previously helming two indie features himself, Jacobs takes on a glorious calling card here, seemingly with the intentions of simply giving core audiences (heterosexual women, gay men) what they want, a fun ride uncompromised by finicky doses of reality or seriousness.
It's been three years since Mike (Channing Tatum) bowed out of his vainglorious life as a respected stripper, now struggling to maintain a failing relationship as he builds his own furniture company. Out of the blue he receives call from Tarzan (Kevin Nash), announcing the Kings of Tampa are traveling through town, concocting dire circumstances to bait Mike into meeting up with them. It turns out they were abandoned by their emcee Dallas (who took off to Macau), but are deciding to engage in one last show together, making their way to Myrtle Beach for the stripper convention. Richie (Joe Manganiello), Ken (Matt Bomer), and Tito (Adam Rodriguez) all manage to woo Mike back into their web as they travel through Florida with new emcee Tobias (Gabriel Iglesias) in a frozen yogurt truck.
It's safe to say XXL broadens its scope in more ways than one. Usurping a forced urban flavor with the addition of Jada Pinkett Smith's Madame as McConaughey's emcee successor (a role that only ends up being as useless as it promises), we find women of all backgrounds given the opportunity to indulge in their particular brand of human exploitation, which basically involves passively positioning themselves as props into the acts of acrobatically inclined male strippers. Likewise, the merry band of brothers displays a refreshing (if dubious) absence of homophobia, stopping in at a gay club for a dance off featuring cast clown Gabriel Iglesias don a Carmen Miranda uniform for the big win. Though the inclusiveness is welcome, considering the considerable gay male fan base of Tatum and these films, there's an undeniable sense of queer baiting going on here, mutated for the politically correct arena of today's increasingly aware world. But these are hardly going to be the thoughts on most people's minds as we gallivant through a bright Floridian road-trip with extended pit stops featuring the beautiful likes of Smith (including Donald Glover in an un-likely, somewhat miscast role), a sultry Southern Belle played by Andie MacDowell, and the ever fascinating Elizabeth Banks.
Much like Soderbergh accomplished with his sequels to Ocean's 11, perhaps the argument here is how XXL plays with our expectations as to what constitutes a sequel. His influence is apparent at times, like a half-lit sequence where Tatum and Heard first meet and converse almost entirely in the dark. However, as apparently based on early escapades in Tatum's own experiences, perhaps this is merely the fantastical Grease 2 chapter of such events.
To his credit, Tatum's a charming screen presence, his character unfettered by any kind of expectation, including a wan romance with Amber Heard, also likeably unimpressed with his profession. The film's best moments feature Tatum and several others engaged in a variety of creative performance acts, though even these resemble the complicated gyrations of Demi Moore from the camp classic Striptease (1996). Everyone here has a medicated charm about them, so it's hard to really damn anyone as feeling out of place, even the increasingly mannequin-ized Matt Bomer. But Joe Manganiello walks away with the film's sole innately sweet natured scene when dared to make a gas station attendant smile through the art of his physical manipulation.
With crushing determinism, the film sweeps through two hours of non-imposing fluff for the grand slam stripper contest, where we are forced to sit through the entirety of all their new sequences devised specifically for their last performance together. Bookended by dreamy sky-gazing shots of Tatum, there's certainly something to be said for its sweet simplicity. Many will walk away from Magic Mike: XXL having been lightly entertained or perhaps titillated. But for those easily irritated by unsubstantive trifles, it's just too much of a laborious tease.
★★/☆☆☆☆☆