Butterfly Vision | Review
Coming Home: Nakonechnyi Explores Collateral Damage in Prescient Drama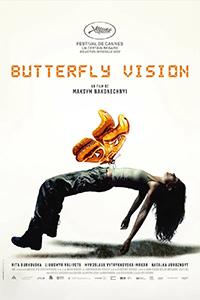 While the near decade long conflict between Russian and Ukraine has spilled into full-blown war, a handful of directors have explored the significantly intense ripple effects which defined the era and documented the events leading up to it. Whether it's the prolific output of Sergei Loznitsa, or last year's Reflection from Valentyn Vasyanovych and Loup Bureau's documentary Trenches, the struggle in the Donbas region has been an omnipresent reality, revisited as a straightforward but utterly prescient melodrama from Maksym Nakonechnyi with his directorial debut, Butterfly Vision. A female drone soldier nabbed by Russian separatists at last returns home during one of the customary prisoner exchanges between sides, pregnant by rape and numbed by the additional trauma triggered by her return. It's a steadfast portrait of the supplemental terror and despair forced upon women during wartime, how their own bodies serve as war zones thanks to the cultural implications in their symbolic and physical desecration or violation.
Lilia (Rita Burkovska) is a Ukrainian drone pilot who's been held captive by Russian separatists for several months. Her husband, Tokha (Lyubomyr Valivots), is also a soldier, and was on hand in a separate vehicle when Lilia was taken. Though relived to have her home, both her husband and mother are hardly able to provide the comfort she needs, especially when a series of medical tests reveal Lilia is pregnant, as rape was part of the torture exacted upon her by the enemy. Too far along in the pregnancy to guarantee an abortion is possible, it seems Lilia is doomed to exist in the memories of these traumas should she keep the child, a possibility which sends her husband full force into the tail spin he'd already been flirting with.
Butterfly Vision arrives at an odd moment, speaking to a specific place and period already obliterated by the intensity and perilousness of an all out war, even as its human focal point remains universally intact. Outdone by the terror of current events, it's at best a time capsule of a prologue, and comprehended through a current glass darkly, is arguably robbed of some potency.
Nakonechnyi keeps things at a sobering and grim even keel, with lead Burkovska playing Lilia as a shell-shocked vagabond still in survival mode. It doesn't help she's hardly granted the space to decompress at home, her husband lashing out violently as a way to avoid his own guilt for Lilia's abduction by the separatists and the embarrassment of potentially being forced to raise a child fathered by the enemy. These are people stuck in a hopeless situation, the possibility of peace or respite, futile.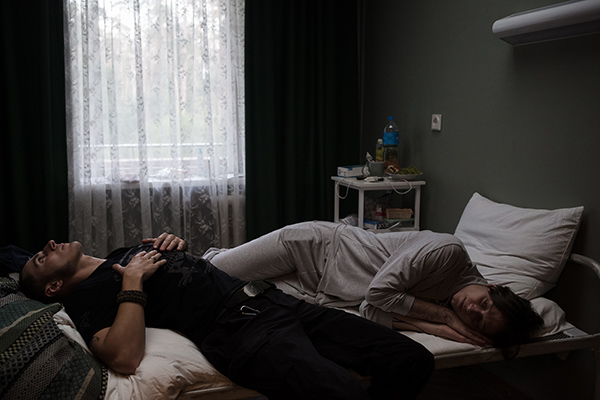 Nakonechnyi tries to break up the visual fabric and segue to traumatic flashbacks through drone footage with corrupted pixelation, a metaphor for Lili's compromised reality. This tends to cheapen the dramatic heft of the film rather than enhance it, interrupting the flow of Burkovska, who it seems we never get to spend quite enough time with to determine what's going through her mind. Distracted by Tokha's shenanigans and her mother's guilt-inducing remonstrances, Butterfly Vision doesn't get sordid or depend on miserabilism, but there's a suffocating quality to it, a situation and a film inspiring flight rather than fight.
Arriving as it does during a decidedly downturned reality with invading Russian forces, it's impossible to escape the hopelessness of Lilia's situation and those countless, nameless and faceless brethren which will undergo similar or worse experiences as war rages and an apathetic world engages in its only definitive capability, spinning mindlessly on its axis.
Reviewed on May 27th at the 2022 Cannes Film Festival – Un Certain Regard. 107 Mins
★★★/☆☆☆☆☆