I'm Your Man | 2021 Berlin International Film Festival Review
The Girl and the Robot: Schrader Wows with Exceptional Exploration of Love, or Something Like It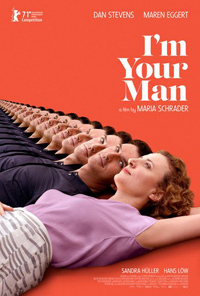 Harlan Ellison memorably titled a collection of short stories, "Love Ain't Nothing But Sex Misspelled." And his sentiments aren't entirely incorrect. But in the continual human search for connection through love or lust, what seems to be the common denominator is the pleasure derived from the pain associated with longing (or, at least, unfulfilled physical desires). In other words, it's the journey not the end point, etc. Maria Schrader, best known for many memorable performances in films like Aimee & Jaguar (1999) and In Darkness (2011) or popular television items like "Deutschland 83/86/89," unveils an intoxicating and eloquent rehash of a cerebral, romantically inclined bit of sci-fi with I'm Your Man.
It's quite the pivot from Schrader's last offering, Stefan Zweig: Farewell to Europe (2016) and approaches the futuristic while remaining universal. We've encountered these concepts before, a not-so-distant world where artificial intelligence allows for us to easily meet the romantic or emotional needs the obtaining of which takes a whole lot of time and energy to cultivate amongst other humans. Based on a short story by Emma Braslavsky, a prickly scientist participates in an innovative experiment only to reinterpret her understanding of her own needs in ways which feel authentically human and quietly provocative.
Alma (Maren Eggert) is a research scientist who has spent the past three years developing evidence of poetry and metaphor in ancient ruins for the prestigious Pergamon Museum in Berlin. But funds for her research team have become scarce, necessitating her boss Roger (Falilou Seck) to suggest she enroll in a novel experiment. For three weeks, she must live with a humanoid designed to meet her romantic and intimate needs, at the end of which she will report back with her recommendations and observations. Her introduction to her model robot, Tom (Dan Stevens) begins with a glitch, which the experiment's liaison (Sandra Huller) confirms is quite the anomaly, considering his makeup. The next meeting is successful, and Alma takes Tom home, though is reluctant and resistant to interacting with him. But the cheery robot is quite adept at being helpful, and through him she survives a professional blow when he confirms a researcher in Buenos Aires has recently published the exact hypothesis her team's been working on, as well as a soundboard for the residual feelings she has for an ex-romantic partner, Julian (Hans Low), who is moving in with his new girlfriend, who also happens to be pregnant. Despite her better judgment, Alma begins to have genuine feelings for Tom, but she does her best to thwart their fruition in the name of reality and scientific rationale.
Humans falling in love with hard drives isn't exactly new, from the shaggy hipster melancholy of Her (2013) to the insidious misogynistic desires of The Stepford Wives (1975) we've seen plenty interpretations of how men fantasize about a relationship with mechanical facades. Sentience isn't exactly the aim of Schrader's film because we've come to a frontier where such terminology doesn't even matter anymore, so sleek and advanced our facsimiles will likely be designed. Instead, Schrader has concocted something which feel like a throwback to Susan Seidelman's Making Mr. Right (1987), a film so ahead of its time maybe we're just creeping up to its value as regards the clinging to gender codes even in the age of post-protoplasm.
Schrader's casting is interesting. Sandra Huller (Requiem; Toni Erdmann) is a blonde 'prototype' herself as the coordinator of the experiment, while Dan Stevens steals his scenes as the man of Alma's dreams, Tom. "Why the British accent?" Alma inquires. Because she likes men who are only slightly exotic, so the experiment's interpretation of this is a man who is not local but not too exotic (which computes as British). Stevens brings an unexpectedly demure energy as the incessantly dapper Tom, and it's a characterization which could have easily felt grating after several sequences, but Schrader draws on the disparate energy of her leads to create a polar vortex of opposing sentiment, which lends itself to an oddly believable romance, like Brief Encounter (1945) for the nihilists. Steven, also, seems to flourish when he's playing people who are slightly 'off' so this, like his turn in The Guest (2014), is another instance where he is charming without being a caricature.
But at the center of I'm Your Man is the effervescent Maren Eggert, previously seen as the anxiety riddled mother in Angela Schanelec's glorious I Was at Home…But (2019). With the energy of a studio era leading lady from the 1940s or 1980s, Eggert effortlessly succeeds and invigorates as an intelligent woman who also exudes an intoxicating confidence. Often, she's irritated or contemplative, but Schrader showcases several moments which hinge on her fluctuating expressions, and there's a comedic vitality which is reminiscent of someone like the Italian comic Toto.
Cinematographer Benedict Neuenfels (The Counterfeiters; A Woman in Berlin) captures some beautiful juxtapositions with ants and their human counterparts toiling away in actions which seem meaningless from a bird's eye view but have paramount survivability ramifications for those on the ground. Themes of aging, longing, loneliness, and humankind's hardwired need to play with language, metaphors and the power of poetry swirl together into a compendium which nails the essence of our need for the dangling carrot.
For, quite wisely, I'm Your Man conveys our contradictory impulses necessitating the need for a balance of achieving what we desire as it simultaneously should elude our reach. It's a beautiful portrait of our acknowledgement of our limitations, try as we might to discover loopholes to satisfy ourselves. In the end, it's a testament of how satisfaction, with regard to both our personal or professional ideations, is only relevant when we can see how success looks but never really achieved.
Reviewed on March 1st at the 2021 (virtual edition) Berlin International Film Festival – Main Competition. 105 Mins.
★★★★/☆☆☆☆☆