Natural Light | 2021 Berlin International Film Festival Review
In the Fog: No Light at the End of the War Tunnel in Nagy's Grim Debut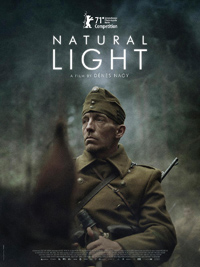 Following in the well-grooved footsteps of many notable Euro auteurs, Hungarian director Dénes Nagy ambitiously turns to a literary adaptation of WWII horrors with his debut Natural Light. Loosely based on the epic 2014 novel from Pal Zavada, a 600+ page tome which follows a Slovak-populated village in Hungary both before and after the war, Nagy whittles away countless tangents to focus on the grim experiences of a farmer turned corporal forced into hunting partisans in the occupied Soviet Union.
If hangdog was a tonal register, Nagy's creation formats this period as a mud-strewn slog of constant exhaustion. One man's struggle to consistently do the right thing is ultimately undermined by the bloodthirsty catharsis desired by his commanders and peers. Like many of Nagy's predecessors, this is neither an exercise in justifying propaganda nor the portrait of a heroic rebel, but a solemn embrace of those stuck in the shadows, a reminder of a terror and violence which swallowed whole peoples and places whole.
It's 1943 in the occupied territories of the Soviet Union. Between 1941 and 1944, thousands of Hungarian soldiers were recruited to maintain order for their Soviet counterparts, and this is a brief snapshot of one particularly grueling winter. Istvan Semetka (Ferenc Szabo) was once a farmer now recruited as a Corporal in a special unit tasked with sussing out partisans hiding in remote villages. On one such mission to a remote community, his unit is ambushed and suddenly Semetka finds himself the senior commanding officer in charge of completing the mission. Paranoia leads to chaos concerning who from the various rural communities was responsible for the ambush and soon Semetka sees his peers may be more capable of doing terrible things than he anticipated.
Nagy strikes a pristine, autumnal tone, and Natural Light is another testament to the talents of DP Tamas Dobos (who recently lensed Willow for Milcho Manchevski). As the title indicates, the cold light of day showcases all the grisly and grim realities Semetka and his special unit are subjected to, and Nagy's adaptation perhaps allows the film to feel more like a cousin to Vasily Bykov, whose superb novel The Ordeal is from the perspective of the very subjects Semetka's troop searches for, Soviet partisans attempting to survive in the wintry landscape (notably, Bykov's treatment provided the basis for two exceptional films, Larisa Shepitko's 1977 The Ascent and Sergei Loznitsa's 2012 In the Fog).
As Semetka, newcomer Ferenc Szabo is an ideal find, who conjures memories of a young Max Von Sydow, a kind farmer-photographer-soldier who seems to be biding his time. Nagy keeps the more severe horrors to the periphery, such as the murder of an elderly 'starosta' (aka, a village elder) who is blamed for giving Semetka's unit information which might have led them into an ambush. No one seems to be able to make any real sense of their surroundings, an analogy about a dog and a bear a spoken counterpoint to the visual motif of photography, where having one's picture taken is both an act of communal shame as well as a gesture of commemoration. Eventually, and almost shockingly, as Nagy's focus on Semetka leads us to believe we're going to elude the foreboding situation of locking a whole community into a barn, the other shoe drops, and the titular intention of Natural Light takes on an entirely new dimension. Diminished yet profound, Nagy has constructed a beautifully photographed piece of wartime misery.
Reviewed on March 2nd at the 2021 (virtual edition) Berlin International Film Festival – Main Competition. 103 Mins.
★★★½/☆☆☆☆☆