Waist of Time: Sissi is no Sissy in Kreutzer's Rebel Biopic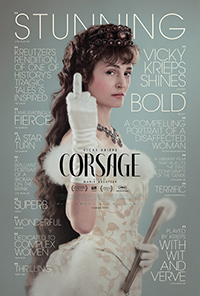 The foreboding restraints of an upper body female garment figuratively represent the repression and archaic control upon a mythic figure who to this day elicits nothing but goodwill. All other accounts of Sissi the empress (including a beloved Romy Schneider version) go by the wayside in Austrian filmmaker Marie Kreutzer's Corsage – a feisty, visually sumptuous film about how trophy wife restlessness essentially prods the four decade old Empress Elisabeth to question her own sense of agency and place in history. An expertly calibrated, tonally sulphurous with a good deal of tongue-in-cheek, this is Vicky Krieps' most versatile role since Phantom Thread.
An overt bird in a gilded cage tale penned by Kreutzer explores the year that was 1878 in a hypothesized calendar / series of events that are brush-stroked vignettes of desire. This death by a thousand side remarks sees Sissy deflect a variety of insults via her dismissive husband in Austrian Emperor Franz Joseph and her unpleasantly overpowering children (the gap in age reminds us that there is still a great deal of resentment and guilt associated towards the loss of her second born). An interesting array of backdrops (England and Bavaria) allow for colorful re-examination of her mental health and we see her reevaluate her own subjectivity and more importantly what could be called a manifest … dynasty. With a complete disinterest in stately proceedings she discovers heroine, an endless supply of beaus and old acquaintances, a not quite thin enough body double and a deep desire to circumvent normal proceedings. Mostly due to her many sparing partners and hubby fencer, she is disappearing before our eyes in more ways than one.
Krieps powers this variation of Sissi with panache. She is gangsta but she's also fully unlikeable due to her self-absorbedness. When she claims "I love to look at you looking at me," in essence, she illustrates the complicated rapport of being hyper aware of your beauty and knowing that it can be used in your favor when all it has done is exaggerate expectations.
One hundred plus years after the fact, one can't help but comparatively think of Larrain's Spencer, or Princess Di types staging their own acts of rebellion that consciously or unconsciously feeds that ego. A sequence where she is introduced to what is among the earliest iterations of newly created movie camera apparatus — she inquisitively asks if it captures sound. How she contours around the public perception is allotted here — and the end credits underline that playfulness in the face of demise. She lets her guard down — throwing colorful comments in the air — and that ascension of power moves culminates in an infamous coiffe sequence.
For her seventh film (the tally includes two television films), Kreutzer reteams with editor Ulrike Kofler — it feels like the film's prowess might have been sharpened here and cinematographer Judith Kaufmann (The Audition – read review) wields a moving camera aesthetic and slo-motion imagery offering glimpses into Sissi's psychological remapping. The shot selection is impeccable. Camille scores the soundtrack – a repeated use of a song we liken to Beach House has a nice riff to it.
Much like recent film samples from countrywoman Jessica Hausner (who gets a thanks in the credits), this is a subversive and cutting portrait with Kreutzer adding a great deal of vibrancy to a clinical, colder character set. Corsage is an entrancing side dish on physicality used as coercion and effectively its corrosiveness.
Reviewed on May 20th at the 2022 Cannes Film Festival – Un Certain Regard. 112 Mins
★★★★/☆☆☆☆☆