You're Horrible, Marius: Auteuil's Next Stop on the Pagnol Train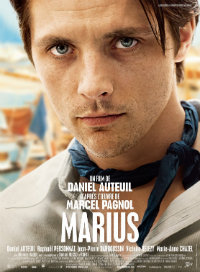 At the very least, actor Daniel Auteuil's return to the director's seat with the first chapter of his remake of Marcel Pagnol's Marseille Trilogy, Marius (the original 1931 version was helmed by Alexander Korda) is less aggravating than the 2011 remake of another Pagnol title, The Well Digger's Daughter, but that's not saying much. Slight in every conceivable aspect, it's the initial chapter in a continuing provincial trilogy of wayward love and strict adherence to social norms, here related without any kind of additional panache, a workmanlike homage to the vintage cinema Auteuil desperately wants to evoke.
In the Old Port of Marseille, Cesar (Daniel Auteuil) the crusty owner of Bar de la Marine, runs his humble business with the help of his son, Marius (Raphael Personnaz). While Marius moons for his one true love, the sea, his bid to secure a position on one of the many ships that sail by every day finally yields a result—he's been offered a job, clandestinely organized right under his father's nose. The timing couldn't be more off, because his childhood friend, Fanny (Victoire Belezy), who's been head over heels in love with Marius since they were children, and in that hardly concealed overzealous fashion, decides to rustle up a little jealousy in Marius by declaring plans to marry the much older but wealthy bachelor, Panisse (Jean-Pierre Darroussin). Marius finally decides that he does indeed have feelings for the lovely young ingénue, but is this love stronger than his dreams to travel the world via the wide blue stretch of endless ocean?
The resounding theme throughout the set-up of Marius's rather unfettered plot seems to be to 'speak only on what you know about,' at least according to the cruelly used Panisse. Alas, perhaps it's Auteuil's lack of attention to detail that truly hampers the success of sinking us back into this swarthy period, a place and time with which he seems rather unfamiliar, instead pleasantly (and peasantly) placating us with a dainty, overly jovial score from Alexander Desplat. Its pedigree feels so simpering that it at brings to mind the buffoonery of Maurice Chevalier, though not in any sort of complimentary fashion (so it's not surprising to note that Chevalier turned up in a 1961 film version of Fanny, the second chapter of the trilogy).
Auteuil casts up-and-coming French star Raphael Personnaz as the one dimensional Marius, a performance that seems only calibrated to register in stupefaction mode. So conservatively is his, umm, transgression with Fanny rendered that you'd assume we were still operating under strict censorship laws. As uncomfortable as Auteuil is with the realities of sexuality, the necessary emotional component is also completely flaccid. As he did with The Well Digger's Daughter, where he cast unknown ingénue Astrid Berges-Frisbey, Auteuil deposits another entirely underwhelming female presence into the role of Fanny with Victoire Belezy—beautiful, yes, but without any iota of screen presence, at least in the banal scenes at hand in this installment.
Auteuil dusts off Marie-Anne Chazel again, here using her for broad comedy in a performance that comes across as entirely unengaged between bouts of forced hysteria. Hampered by the blatant artificiality of its spic and span sets, Marius seems an utterly heartless exercise in its exploration of that thing called love, whether that be the love of another or the passion of one's dreams, and promises to be another stuffy tale highlighting the degrading plight of women abandoned, doomed to the castigation of cruel tongues.
★½/☆☆☆☆☆