War is War is War: Heineman Tackles the Controversial Marie Colvin in Narrative Debut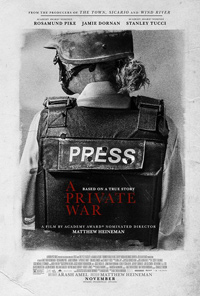 Oscar nominated documentarian Matthew Heineman (2015's Cartel Land), follows up recent noted projects City of Ghosts (2017) and the 2018 mini-series "The Trade" with one of the first significant cinematic portrayals of American journalist and war reporter Marie Colvin, who famously worked for Britain's The Sunday Times from 1985 to her death in Syria in 2012. Based on the Vanity Fair article about her by Marie Brenner, A Private War attempts to lionize Colvin's drastic war correspondences from 2001 to her untimely death, mostly by showcasing how her personal demons often influenced and motivated her passion for such a dangerous occupation. Actress Rosamund Pike adds another notch to her impressive characterizations as the resonant journalist in a showcase which recalls high-profile true-life titles from the 1970s and 80s, which once showcased the flinty resilience of American women in film, like Sigourney Weaver, Jane Fonda, and Meryl Streep.
Opening in 2012 Homs, as a meaningful voiceover rises above the remnants of her corpse in the rubble, we immediately retreat to Marie Colvin's career eleven years prior, when she strong-armed her way into covering Sri Lanka's Tamil Tigers in 2001 (a scene allowing for Dheepan's Jesuthasan Antonythasan minor walk-on) with her overcompensating boss Sean Ryan (Tom Hollander). Losing her left eye in the tumult, which would define her look until the end of her life thanks to an iconic eyepatch, Colvin heads to Iraq, where she usurps photographer Paul Conroy (Jamie Dornan) as her wingman by tossing him into an ill-conceived trip to Fallujah. Theirs is eventually a collaborative relationship which sees them traverse the dangerous terrain of Syria, where her life is eventually taken in Homs.
Despite her considerable beauty, which has the ability to distract during Colvin's latter years of physical decline and penchant for cigarettes (Heineman at least has the good sense to depict the extreme toll on her oral hygiene), Pike is the grounding element of A Private War, delivering a handful of pitch-perfect sequences as a woman committed to a passion which erodes her mentally and physically. Pike, who has remained a hot commodity since her lauded breakout in Fincher's 2014 Gone Girl can add Colvin to her growing array of sterling and culturally varied real-life composites, as seen in Amma Asante's A United Kingdom (2016) and Jose Padilha's 7 Days In Entebbe (2018), each time playing a woman whose convictions have led them to fame, infamy, or a combination of the two.
While Danish director and scribe Tobias Lindholm has also recently announced plans for a Marie Colvin biopic, French director Eva Husson utilized her persona through an eye-patched Emmanuelle Bercot in the ill-received Cannes competitor Girls of the Sun, a film and a performance which pales in comparison to the actual Colvin and her accomplishments covering the Sri Lankan Civil War and the Arab Spring in 2011.
While Aresh Amel's screenplay is arguably better than his 2014 credit on Grace of Monaco, an onslaught of familiar flashbacks and war montages sometimes reduce A Private War to the usual passive preachiness of such horrors, on both a macro and micro level for this particular subject. Colvin's complicated relationships, particularly with other women (including the best friend played by Nikki Amuka-Bird) are all clichéd exchanges of this sort of ilk. Because of this superficiality, Pike's supporting cast members are a bit less persuasive, such as the doe-eyed Jamie Dornan as photographer Paul Conroy, who isn't given much to do other than being a supportive sometimes-voice of reason.
A later period romance with Stanley Tucci's Tony Shaw also doesn't quite reflect the tempestuousness of Colvin's real-life relationships and romances, which has the tendency to make these tangential non-combat zone sequences of A Private War feel more akin to Tina Fey in Whiskey Tango Foxtrot (2016). Still, Pike manages to compel us to believe in the spirit of Colvin, a woman who was steadfast and committed to the notion of journalistic integrity and the responsibility required by bearing witness to the casualties of war.
★★½/☆☆☆☆☆