Ties That Bind: Wang's Debut a Cinematic Knockout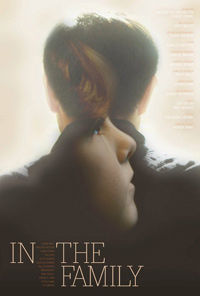 Every so often, unpredictably, a film comes out of nowhere, with no pomp or circumstance, heralding a brilliant new cinematic talent. Quietly debuting at the tail end of 2011, Patrick Wang's In the Family, received a nomination for an Independent Spirit Award, which set off a slow but steady trickle of theatrical releases for this quiet gem across the country. Skillfully avoiding stereotypes, clichés, and any manner of manipulative techniques in order to generate emotional discourse, Wang has created what sounds like a hot topic potboiler on paper and made a film that's as hopefully humanistic as it is melancholically realistic.
Chip (Sebastian Banes), wakes up one morning and bounces into his parents' bedroom, waking up his dads, Joey (Patrick Wang), and Cody (Trevor St. John). We watch their breakfast ritual, as the three warmly and familiarly converse, all of them going about their respective days, Cody being a teacher and Joey a contractor. They have family friends, like Anne (Eisa Carter), and Cody's sister Eileen (Kelly McAndrew) and her husband, Dave (Peter Robey), all who seem quiet comfortable with Cody and Joey in their small town community of Martin, Tennessee. Suddenly, Cody gets into a fatal car accident and Joey finds himself alone with Chip, who is not his biological son.
Through varying degrees of quiet flashbacks we learn that Cody was originally married to Chip's mom, and Joey had been hired to build their new home. When Cody's wife died in child birth, several months later, to his surprise, he found himself falling in love with Joey, and for the next five years, they built a happy life together for themselves and their young son. Slowly, it's revealed that Cody's family had some initial, if politely perceptible discomfort with Joey, including Cody's mom Sally (Park Overall). But all politeness soon drains away when Eileen discovers Cody's last will and testament, last updated when Chip was born, before he became involved with Joey. Since she's named as the sole inheritor of Cody's house and guardianship of Cody's son, conflict quickly arises. That Thanksgiving, the Hines family asks that Joey quietly drop Chip off to celebrate the holidays and when he returns to get his son he finds that Eileen has absconded with Chip, eventually leading to her obtaining a restraining order. As Joey struggles futilely to find a lawyer that will argue his case, he's perpetually stonewalled by an uncaring community.
Continuing on with his work, Joey has been working on a home for a retired attorney, Paul Hawks (Brian Murray) who has an extensive law library. Joey mentions he can rebind some of his well work book collection (a skill he had learned from his foster father), and as the two men speak, Hawks decides to help Joey, claiming that there may not be help from the law, but perhaps they can appeal to Eileen and Dave as humans.
There's a palpable and discernable dread and discomfort threaded throughout In the Family, perhaps more resonant for those who know the drill. Here we have a gay Asian American man in a small, Southern community, daring to struggle to raise the young child of his deceased partner, and somehow, Wang, while introducing all of these labels and details, strips all of those layers away to make this simply the story about a parent trying to care for his child. There's still considerable discomfort here, with Wang's realistic performance striking a resonant awkwardness with familiar situations, trying to explain the exact nature of his relationship with Cody through implication, which causes trouble when trying to see Cody after surgery in the hospital, or explaining to lawyers that Chip has two fathers. The words gay or homosexual are never uttered in In the Family, and the film sort of employs tactics of first wave queer theory as we experience with Joey a constant and continual coming out experience with nearly every interaction outside of the familial or familiar, which succinctly embodies Sedgwick's Epistemology of the Closet.
As a filmmaker, Wang proves himself to be a master storyteller and director right out of the gate, the running time of In the Family just under two hours, and nary a false note in sight. Filled with long takes and static shot compositions, there's a definite arthouse aesthetic to the film, but the film more than compensates for its massive running time to convey such a simple narrative.
This is an exercise in observation, where we get comfortable with our protagonist, a thrice removed outsider, continually shown to us as residing outside his element. We are continually shown the back of his head, the environment navigating around and in front of him, yet we're reminded he doesn't quite blend into the mix. A static camera from a scene early on in Joey and Cody's kitchen shows the three of them getting ready for the day together. After Cody's death, we get the same establishing shot without Cody, a long take with no dialogue where Chip and Joey wordlessly comfort one another, until, Joey finally getts up to clear that morning's breakfast dishes, which had been set for three.
Wang has assembled a beautifully low key cast, with some seasoned character actors like Murray, delightful new talents like McAndrews, and even some notable alums, like an almost unrecognizable Park Overall, and made a quietly beautiful film about family.