Captain Volkonogov Escaped | 2021 Venice Film Festival Review
Can You Ever Forgive Me?: Chupov & Merkulova Explore Redemption in Scathing, Dramatic Thriller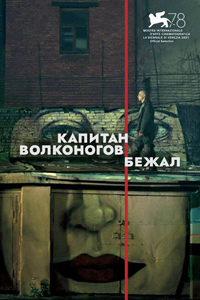 For their third feature, Captain Volkonogov Escaped, directors Aleksey Chupov and Natasha Merkulova deliver another daring, subversive fable critiquing Russian totalitarianism. Set specifically in 1938 Leningrad, it's a fast-paced thriller exploring the notion of an escape more spiritual than physical, as a soldier's panicked change of heart inspires a mad dash for last minute expiation.
Featuring the enigmatic Yuri Borisov (Compartment No. 6; Petrov's Flu; Mama, I'm Home), the newly minted poster boy of the Russian arthouse, Chupov & Merkulova concoct something of a dark comedy of despair. While a sense of hopelessness nips at the film's heels, and arguably plows over some some character epiphanies, which could have used a touch more finesse, it's a surprisingly effective, swift-paced bullet ripping into the Motherland.
When his superior, Major Gvozdev (Aleksandr Yatsenko) throws himself out a window amidst rising citizen and soldier "purges," Captain Volkonogov (Borisov) of the national security service, flees during the weekly internal "re-evaluations," which usually is code for an execution. He's quickly hunted down by the newly appointed Major Golovnya (Timofey Tribuntsev), suffering from a fatal lung disease but aware if the mission isn't accomplished, his own position faces re-evaluation. After he's betrayed by his girlfriend, and his best friend and fellow soldier Veretennikov (Nikita Kukushkin) is tortured and executed for information on the missing captain, a plan snaps into place. Veretennikov's corpse appears to Volkonogov, informing him he's doomed to hell if he cannot atone for his sins. This can be accomplished if he visits the relatives of the people he's murdered, inform them of what happened and ask for forgiveness. This forgiveness will be his ticket to heaven. With a file pilfered out of the service's HQ containing information on all the people he's assisted in killing, Volkonogov begins a hurried jaunt through the city, with Golovyna hot on his trail.

Borisov îs compelling as the titular Volkonogov, wrapped up in scenario recalling Bresson's famous 1956 film A Man Escaped. Of course, the escape is not literal, as his mad dash through Leningrad ultimately proves—he's now focused on the after life, suddenly inspired, seemingly, by the corpse of his friend Veretennikov (in a similar fashion to Griffin Dunne in An American Werewolf in London, 1981).
As Volkonogov makes his way through the city, we're treated to memory flashbacks, perhaps the most potent of which highlights the difference between these friends when they're trained by an infamous executioner on how to properly execute prisoners. Volkonogov appears well suited for his post, a lethal machine of a man who quickly realizes, for him, there's no way out. Emotional growth is charted through his various interactions requesting atonement. Initially careless, as in his first stop with a disgraced doctor, her life ruined by the accusations against her relative, forcing her to work and live in a basement morgue amongst corpulent cadavers, eventually, he is moved to more empathetic gestures.
Strikingly, the film doesn't dive into miserabilism, hovering in a bittersweet territory where a grieving ensemble of surviving relatives convey complex emotional responses. While the 'switch' for Volkonogov isn't entirely apparent, the segues of how Volkonogov opens his eyes to the world around him is similar to the directors' previous film, The Man Who Surprised Everyone (2018)—as in this film, the suggestion seems, doing the right thing, for yourself or others, is the path to salvation.
Trailing him is the sickly Major Golovyna, newly inheriting his post from Major Gvozdev, who we initially meet mangled on the concrete. Through flashbacks, we come to understand why. It's here where Merkulova & Chupov are most blunt, revealing none of these victims are even believed to be guilty—they're merely "unreliables," preemptively erased in anticipation of the impending war, wiping out resistance before it comes to fruition.
It's clear Golovyna's life is also on the line, should Volkonogov actually escape, in a regime which quickly cycles through its supply of comrades. As a Zeppelin (a minor exchange finds citizens bickering over using the proper terminology, dirigible or Aeroflot preferred to the German term, thank you) hovers in the skyline, and it dawns on Volkonogov there may be no forgiveness for his actions and complicity, the film essentially becomes a cat-and-mouse thriller in the second act. Nadezhda Vasileva's costume design for the national security serves provides vibrant red hues throbbing like blood clots, while Sergey Fevralev's production design and Mart Taniel's (November, 2017) cinematography properly captures the vibe of 1930s Leningrad, which would become a major player in WWII only two years later in one of the costliest sieges in history.
Although the mechanism driving the narrative is similar to countless fables whereby a compromised protagonist must seek forgiveness or find love to lift a curse or save themselves, Captain Volkonogov Escaped expertly conveys the moral whereby this sort of journey begins and ends with one's self.
Reviewed on September 7th at the 2021 Venice Film Festival – Main Competition. 126 Mins
★★★½/☆☆☆☆☆