All the Old Knives | Review
The Worst Cut is the Deepest: Metz Revels in Tasty Romantic Thriller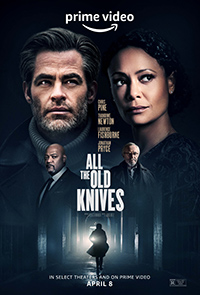 Emerging somewhere between the thorny love pacts of Graham Greene and the surefire violence of Alfred Hitchcock, Janus Metz steers an enthralling framed narrative with his sophomore film All the Old Knives, adapted by Olen Steinhauer from his own novel. A throwback to adult thrillers dabbling in romance yet relishing wretchedness, Metz commands an impressive cast in this meaty flashback narrative concerned with the jarring similarities between acts of hate and love.
Chris Pine executive produces yet another project outfitted to showcase his dexterity (although more persuasively than in Tarik Saleh's The Contractor), but the ensemble project gifts Thandiwe Newton one of her best leading roles in years as his star-crossed lover shattered by the events of a terrorist hijacking. Mixing glossy, Sirkian melodrama with the chilly espionage of a John le Carré novel, Metz taps into the human component which allows the narrative to take flight.
At the CIA's Vienna station in 2012, a cohort of spies are cast asunder when the hijacking of a Royal Jordanian Flight ends disastrously. Eight years later, Ilyas Shushani (Orli Shuka), who was once a stoolie for Henry Pelham (Chris Pine) when he was stationed in Moscow, confessed before death how the hijackers on the 2012 flight were successful because of a mole in the CIA. The agency is interested in discovering who the mole was, considering the high profile incident was a significant embarrassment. Pelham's boss Vick Wallinger (Laurence Fishburne) taps him to interview the only two potential weak points from their old team, the retired Bill Compton (Jonathan Pryce), who now lives in London, and the former employee, Celia Harrison (Thandiwe Newton). The only trouble is, Harry was once in love with Celia, who fled Vienna and the CIA after the devastating terror attack. Arranging dinner with her in Carmel-by-the-Sea, where she now resides with a husband and two children, Harry is eager to clear her name but perhaps more intensely interested in discovering why she also left him behind in Austria. As the dinner progresses and they reminisce about one fateful day eight years prior, all is not what it appears to be over the course of their meal.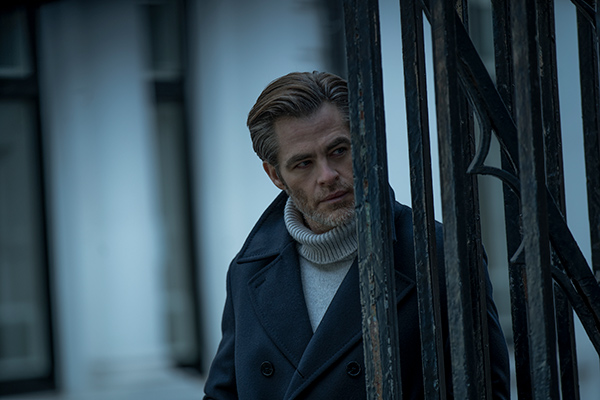 Part of the strange captivation in All the Old Knives is due to the striking juxtaposition of 2012 Vienna with 2020 Carmel-by-the-Sea, the latter given a succulent pallor of rosy hues as afternoon slides into the dusk of one particularly detrimental evening. DP Charlotte Bruus Christensen, who's lensed Vinterberg's The Hunt (2012), not to mention Fences (2016) and the first A Quiet Place (2018), combines her skill sets and palettes intriguingly, and solidifies two distinct vibes across the film's timelines.
Metz, whose narrative debut Borg vs. McEnroe (2017) similarly hinged on two humans hellbent on ruination, capturing these warring flavors, and the initial The End of the Affair (1955 & 1999) paradigm segues like a bullet into Prizzi's Honor (1987) territory. Pine and Newton share a potent chemistry, albeit one potentially born out of lust, but it's strong enough for the audience to wonder alongside Henry why exactly she ran, and ran so far away. Others get less room to play around, particularly Laurence Fishburne, but Jonathan Pryce looms larger than expected as a potential loose thread when various facts come to light.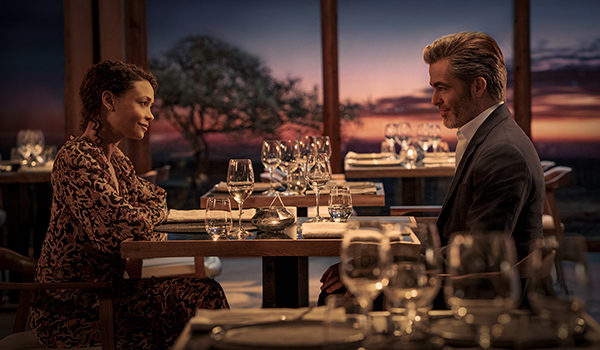 Ultimately, Metz lands on a flavor similar to Hitchcock's espionage films of the late 1930s and early 1940s, where double agents, wrong man syndrome and compromised romantic liaisons spun out of control on the cusp of and in the midst of WWII. Here's a contemporaneous update on a familiar tune with the clandestine shapeshifting landscape of the war on terror forever looming in the background. As its title suggests, old knives can still cut deep.
★★★½/☆☆☆☆☆