Fecal Weapon: Dowse Gets Derivative with (Another) Odd Couple Comedy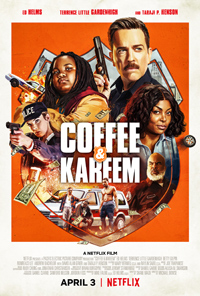 The odd couple dynamic in comedy is as old as the genre itself, and thus, is a formula as often cliched as it is tried and true. Unfortunately, Coffee & Kareem, the latest film from director Michael Dowse, falls more often into the former, especially as it compares to his own filmography which has brought him from successful Canadian comedies such as the Fubar (2002) films and Goon (2011) to the comedic parameters of Hollywood, with the likes of Take Me Home Tonight (2011), What If (2013), and the recent Stuber (2019). The first feature written by Shane Mack doesn't allow for any real differentiation from a variety of similarly themed films beyond the superficial business of its main players. There are laughs to be had, requiring considerable narrative suspension of disbelief in its ridiculousness, but is ultimately comprised of little substance, comedic or otherwise, which would allow for any of it to be remembered.
Police officer James Coffee (Ed Helms) is somewhat unaware of his reputation as a flop, whether at work or in his newly established relationship with healthcare worker Vanessa (Taraji P. Henson) based on his awkward inability to discuss racial observations or issues. Her twelve-year-old son Kareem (Terrence Little Gardenhigh) is somewhat of a hellion who objects to his mother's new relationship, taking it upon himself to ask some men from his neighborhood to inflict violence upon Coffee. But Kareem stumbles upon the murder of a crooked police officer at the hands of drug dealer Orlando Johnson (RonReaco Lee) and his sidekicks Rodney and Dee (Andrew Bachelor, William "Bigsleeps" Stewart). Filming the murder on his phone, Coffee and Kareem become not only the targets of Johnson's crew but also his own colleagues, including Detective Linda Watts (Betty Gilpin) and his sympathetic police captain (David Alan Grier).
Much ado is made about Coffee as being both white and a police offer, but as portrayed by Helms, he's never elevated beyond a milquetoast shtick of underwhelming stereotypes—one wonders what this character might have been capable of had he been portrayed by someone with some intriguing qualities which would justify Vanessa's attraction.
Relative newcomer Gardenhigh plays Kareem at an obnoxious fever pitch of precocious clichés and foulmouthed stereotypes. Cussin' kids are no longer an automatic novelty (see 2019's Good Boys for a healthy dose of this), and if Henson is somewhat against type, for once, her inability to ever address her son's problematic behavior is one of Dowse and Mack's innumerable, egregious plot holes.

Hot off the heels of Stuber, Dowse's latest compares unfavorably to that film, which exudes a similar dynamic between Dave Bautista and Kumail Nanjiani in a narrative utilizing Mira Sorvino in almost the exact same catalyzing pattern as Gilpin here. However, Gilpin, who can also be seen for her excellent performance in The Hunt (and had a minor role in Stuber) walks away with many of the better moments in Coffee & Kareem. Over-the-top, but never in a way which suggests it has anything meaningful to say on any front whatsoever, Dowse's latest falls short of its potential.
★★/☆☆☆☆☆