Never Rarely Sometimes Always | Review
The Story of Women: Hittman Hits Home Run with Stellar, Topical Abortion Drama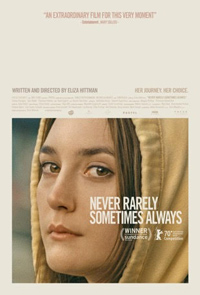 How often have you seen an abortion drama, in any language, which successfully depicts the logistical, emotional and cultural elements informing the ability of a woman to make decisions about her own body? Your answer may reflect the dismay and distress you'll experience after viewing director Eliza Hittman's painfully astute third feature Never Rarely Sometimes Always, so named for the multiple-choice options on a standard in-take form at a clinic. If one adds to this the distinction of such a narrative unfettered by melodrama, exaggeration or body horror, your response could be what is the overwhelming reality—rarely.
Exploring the current woeful state of affairs in the United States, whereby women are denied the right to abortion altogether or under extremely stringent circumstances, Hittman mines a scenario where two impressively resilient teenagers trek across state lines in secret odyssey, and who despite significant economic odds grimly pursue a service which should be readily made available no matter their whereabouts. Reflecting the deeper, complex myriad issues of trenchant misogyny reflected in our policies, plus disconcertingly familiar behavior in evidenced by proscribed gender roles at home, school and the workplace (all which place young women at a significant disadvantage), Hittman's film reflects how far we've come in understanding our reality in a current state of significant cultural regression and how despairingly we've allowed ourselves to normalize it.

Autumn (Sidney Flanigan) is a seventeen-year-old girl in rural Pennsylvania who has a significant problem—she's pregnant with no one to turn to for support. Harassed by male peers at school, dismissed by her stepfather and fondled by her boss at the supermarket she cashiers at, Autumn finds herself in a desperate situation. While the female clinicians at the local clinic force their pro-life agenda on her, she's determined to have an abortion but in her state it isn't legal, except for in cases of rape or incest.
Confiding in her affable cousin Skylar (Talia Ryder), the two young women sneak off to New York so Autumn can make the choice right for her. But it seems she's farther along in her pregnancy than she thought, which complicates matters, forcing her to wait another day to be seen in a Manhattan clinic. Without anywhere to stay, they roam the streets of New York until Autumn's various appointments transpire, avoiding the worry of explanations back home.
In the broad, increasingly divided expanse of the United States, only major urban centers retain the last vestiges of the rights afforded by Roe v. Wade in a society hurtling towards the Nationalistic tendencies which have eroded hard won rights of those disenfranchised by America's heteropatriarchy. And for those privileged enough to live within such areas, Never Rarely Sometimes Always forces us to look at what's been happening—humans, after all, are inclined to ignore issues which don't directly pertain to them. Until it happens to you. But Hittman is doing more than merely making a topical statement.
Throughout her filmography she's established a desire to examine young people battling the constraints of their own desires and social parameters, teenagers who make themselves vulnerable by pursuing sexual exploits they haven't developed emotionally enough to comprehend the consequences of. From the teen protagonist in her debut It Felt Like Love (2013) to the closeted young man already beginning to confuse sexual inclinations with intimacy in Beach Rats (2017), she's come to another familiar chapter in what plays like a trilogy capper in her oeuvre with her latest—like a fantastically blunt but priceless contemporizing of Judy Blume, where teenagers continue to be unable to communicate about their bodies and their needs with adults.
Hittman instills complex intention in sequences in a film which exists on the spectrum of neo-realism and the early cinema of David Gordon Green. Newcomer Sidney Flanigan transcends the trappings of a morose traumatized teen (a staple in many an indie feature) with an aching character arc. Reminiscent of a Mia Wasikowska, she takes on the world wearied visage of a Patricia Neal by the end of her surprisingly cathartic journey.
As her cousin, Talia Ryder's Skylar is a patient, loving, wholly necessary bastion of quiet support and Hittman leads the young women into similar, less horrifically exaggerated territory than 4 Months, 3 Weeks, 2 Days (2007), Cristian Mungiu's groundbreaking masterpiece set in 1980s Romania (of which there are too many parallels for comfort in Hittman's rendering). In her journey to assist Autumn out of her troubling predicament, Skylar uses the only other currency available to them—herself. Also of importance, Hittman highlights the insidious selfishness of healthcare workers who try to manipulate vulnerable teens into deciding against abortion in an upsetting scenario at Autumn's hometown clinic (her response to being administered an over-the-counter pregnancy test is subtle but priceless in the volumes it speaks to our trust in the resources and professionalism we automatically assume, before we know better, of healthcare facilities).
Troubling yet tender, Hittman makes felicitous use of her title with an interview at the clinic which will perform her abortion, revealing the extent of the potential trauma which resulted in this pregnancy, as well as deftly explaining Autumn's behavior as a young woman who has learned the best defense mechanism is to shut everyone out. Hittman is terrifically deft with fleshing out her characterizations, and every sequence with Autumn shares key information about her, from the opening moment where she's publicly taunted while playing (quite impressively) a song at a school talent show, to the dynamic with her concerned mother (the lovely chanteuse Sharon von Etten) and ambivalent stepfather (Ryan Eggold), who likes to call the family a dog a slut when the canine responds positively to being petted.
Shot with low key precision by Hélène Louvart (who lensed Beach Rats as well as Alice Rohrwacher's The Wonders and Happy as Lazzaro, and this year's All the Dead Ones for Marco Dutra & Caetano Gotardo), Never Rarely Sometimes Always is effective, empathetic, and a portrait of unspoken tragic realities.
Reviewed on February 25th at the 2020 Berlin International Film Festival – Competition – 101 Mins.
★★★★/☆☆☆☆☆