Meats for the Meat: Cave Goes for Broke in Gross Out Horror Debut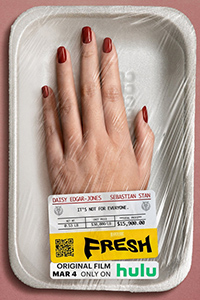 You are what you eat is an adage taken to literal extremes in Fresh, the provocative but blundering debut from Mimi Cave, an exercise on the horrors of hetero dating with significant subtexts extolling the necessities (or at least the environmentally and aesthetically favorable process) of veganism. There's a lot to appreciate in Lauryn Kahn's (Ibiza, 2018) screenplay which showcases how quickly the essence of a rom-com can be twisted into nightmare fuel. Featuring Sebastian Stan in yet another interesting, offbeat characterization highlighting the superficiality of charm, the vehicle is really a highlight for Daisy Edgar-Jones and Jojo T. Gibbs as best friends whose allegiance proves to be detrimental. For those easily wooed by grossness and gore, Cave's black comedy has much to offer, though it relies heavily on a cliched third act rather than mining the cultural commentary driving the narrative.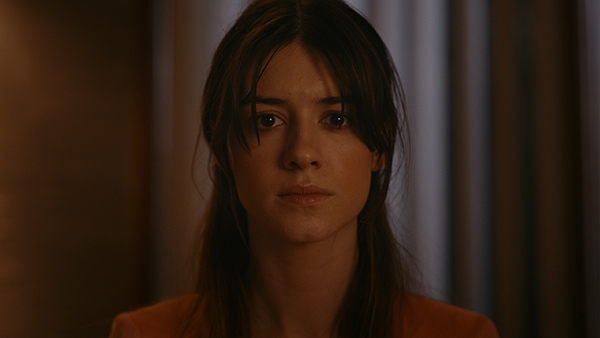 Noa (Daisy Edgar-Jones) has become weary of online dating, exhausted by endless uncomfortable interactions she shares with her sympathetic best friend, Mollie (Jojo T. Gibbs). But then, in the grocery store one day, she experiences an anomaly when a meet cute with Steve (Sebastian Stan) leads to a whirlwind romance. He's a plastic surgeon, completely enamoured with Noa, inviting her to a weekend at an isolated cabin he owns. Mollie is suspicious since she has yet to meet Steve and he has zero online social media presence. And only mere moments into their big romantic weekend, things take a swift turn when Steve reveals he was definitely too good to be true. In fact, he's a real big creep with carnivorous clients who pay big bucks for fresh human flesh.
In the tradition of Julie Ducournau's Raw, Cave's femme-centric film dives into the brutal, taboo topic of cannibalism married to elitism, allowing for easily drawn comparisons to our apparently boundless meat-eating tendencies. The film's best moments rely more on the idea of what's being consumed rather than the more flamboyant 'food prep' sequences wherein Stan seems to be living out a Risky Business-style fantasy. Edgar-Jones remains likable, and more importantly, believable, but the scene-stealer happens to be Gibbs as her best friend, who remains committed to figuring out what happened to her friend, leading to an interesting but under-utilized enabling spouse played by Charlotte Le Bon.

Once these narrative strands unite, however, Fresh starts to feel a little stale as it heads into inevitability. While the build up has the provocative charisma of golden-era Bertrand Blier, Cave descends into a Tarantino zone (although arguably more perverse than his hyper kitsch), the results of which were never in doubt (though her jaunty soundtrack selection is worthy of mention).
To be fair, it's a deliriously dark hearted film with expert ambience provided by DP Pawel Pogorzelski, responsible for Ari Aster's shriek shows Hereditary and Midsummer (not to mention the delirious Bob Odenkirk Death Wish retread, Nobody). But upon it's big reveal, which exists in the nexus of Taken and Martyrs, where wealthy people pay to receive the supposed glory of trauma's byproducts, Fresh is a familiar dish dressed with new garnish.
Reviewed on January 22nd (virtually) at the 2022 Sundance Film Festival – Midnight section. 114 mins.
★★★/☆☆☆☆☆