Mother Schmuckers | Review
O Brother, Why Art Thou?: The Guit Bros. Get Down & Out in Bizarre Debut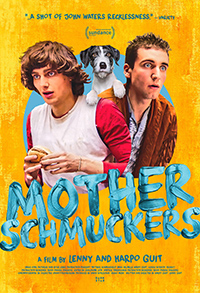 Something is rotten in the state of Belgium, or so it would seem in the nonsensical and utterly out of control low brow comedy Mother Schmuckers, the debut film from Lenny and Harpo Guit, starring as what seems to be an obnoxious exaggeration of The Three Stooges ilk. Surely, there's a subsector of cult audiences who adore this kind of humor, and if you're a fan of items like The Greasy Strangler (2016) or Tim and Eric's Billion Dollar Movie (2012), then by all means, have at it. Basically, two obliviously goofy brothers lose their mother's dog and must retrieve it before allowed reentry in the rundown apartment they share with her. But this type of looney tunes humor is better served in shorter format than as a feature film, so if you're resistant to its strangeness, it's a bit of a tedious viewing experience.
Isaachar (Maxi Delmelle) and Zabulon (Harpo Guit) are two grown brothers who live with their mother Cashmere (Claire Bodson). Stinking up the apartment as they concoct the most disgusting merguez sausage one is apt to see, they take their mother's dog January Jack for a walk. During an altercation with a security guard at a store they like to shoplift from, their escape forces them to leave the dog behind. Cashmere refuses to let them come home until they return with her beloved dog. Shenanigans ensue, and episodes involving a gun, their dad, and a troubling sex party (among other various events) eventually brings everything full circle.
The Guit Bros. are working within the same vein of humor as Benoit Delepine and Gustave de Kervern, who've been unleashing bizarro Belgian concoctions for the past two decades, always serving oddball characters usually obsessed with or exaggerating banalities. However, subtlety goes a long way in their own deadpan filmography.
From Cashmere's vomit we receive the film's title spelled out in the most outrageous body fluid credit sequence since Takashi Miike's Ichi the Killer (2001)—so again, it both repels and attracts depending on the kind of weirdness one embraces or can tolerate. Boundaries are pushed and taste levels are tested, with January Jack having to be rescued from a bestial orgy, but since there's no real intention or message behind any of this, Mother Schmuckers misses out on the point of what makes subversive cinema edgy. More entertaining is Mathieu Amalric as their PEZ dispenser collecting father, for instance, while Yannick Renier is somehow a welcome restraint as a taxi driver in the supporting cast.
Attempting to utilize a variety of visual tricks, including what feels like the obligatory perspective of poor little January Jack, Mother Schmuckers often looks better than its narrative content suggests. Otherwise, the Guit Bros. have only accomplished a shambolic series of what plays like improvised vignettes strung together by the loosest of possible through lines and without any real payoff to encourage memorability. But even though Mother Schmuckers is clearly not for everyone, and nor is it trying to be, it's also not as inane as any number of American equivalents (i.e., much of Adam Sandler's slapstick offerings) and manages to feel as if it were made for adult consumption.
Reviewed on January 29th at the 2021 (virtual) Sundance Film Festival – Midnight Program. 70 Mins
★½/☆☆☆☆☆