Mug (Twarz) | 2018 Berlin Intl. Film Festival Review
Eyes Without a Face: Szumowska Constructs a Christ Figure in Melancholic Farce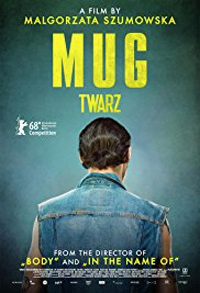 Love is a many splendored thing, albeit something often compromised or mutilated by cultural conceptions in the work of Polish auteur Malgorzata Szumowska, who brings her unique sensibilities to another memorable farce on modern day Poland with Mug. Employing her usual collaborator Mateusz Kościukiewicz once again, Szumowska crafts an allegorical metaphor on martyrdom as told through the tragedy of a construction worker injured during while working on the world's largest statue of Jesus, the decisively named Christ the King, a monument erected in western Poland in 2010.
Her usual DP Michal Englert (In the Name Of…, 2013; Body, 2015) creates frames with bleary, obfuscated backgrounds, implying with its out-of-focus constants how the limited perspectives of its subjects allow for superficialities and an eventual disregard for the humanity of Szumowska's protagonist. Increasingly morbid and as fantastically observed as her previous dark comedy Body, which concerns desperate attempts at agency over the physical and spiritual realms, it's another vibrant piece of filmmaking from Szumowska, who weaves with aching simplicity a tragicomedy of broken down people forced to cut their losses and pick up the pieces.
Jacek (Kościukiewicz), a handsome, long-haired misfit, is an odd-man-out with both his rural family and the community at large. One of the hundreds of workers erecting the world's largest statue of Jesus on the Polish-German border, the heavy-metal music loving pariah spends most of his time with his beautiful, equally rebellious girlfriend Dagmara (Malgorzata Gorol), who seems to enjoy testing the sensibilities of the community with her affectionate displays for Jacek. But when a terrible accident at work completely disfigures Jacek, he becomes Poland's first recipient of a face transplant. However, his visage has been ruined beyond recognition, and he's left unable to control the functions of his newly outfitted identity. While he quickly becomes an object of both derision and sympathy, both Dagmara and most of his family abandon the once envied wild child, leaving the young man emotionally devastated.
Despite considerable attention on the international platform, having taken home a Teddy in 2013 for In the Name Of.., and a Best Director win for 2015's Body out of Berlin, Szumowska's growing filmography remains vastly underrated abroad—in decades to comes, her body of work will potentially be more easily recuperated in retrospect as a contemporary proctor of Poland's modern identity issues.
With Mug, which plays on the concept of the word used to describe grotesque characterizations of the face on drinking mugs in 18th century England, Szumowska's most colorful bouts of melancholy are realized with the repeated strain of the hit 2000 track from Italian DJ Gigi D'agostino, "L'amour toujours," which comes to stand in for the idyllic romance between Jacek and Dagmara, shown reveling in the tune while locals enviously stand by.
Theirs is a love which allows for them to live in a fantasy, shirking the beliefs of their neighbors and families until Jacek's accident no longer affords them the ability to do so. Eventually, repeated uses of the song mutate to fit their collapsing relationship following Jacek's face transplant. What once was a dizzying, syrupy testament to fantastical love becomes a tawdry track of titillation as Dagmara renounces her affection for the altered Jacek and throws herself into a pool of lascivious admirers. Beautifully, this ends with Szumowska's most potent moment in a dream sequence where the tune is morphed into an instrumental interlude.
As the media blitz surrounding Jacek subsides (and leaves his family responsible for medical bills), his family rejects their new 'son,' going so far as to stage an exorcism, believing the young man in their home is no longer the same person. The only real salve is Jacek's empathetic sister, a brief but poignant turn from Agnieszka Podsiadlik.
At its heights, Mug is a testament to the ignorant and dangerous religious zealotry in Poland's provinces, underscored with hypocrisy of creating the world's biggest Jesus statute purely for consumer purposes (meant to bolster the area's tourism). While it's grappling with social anxieties in the face of disability and deformity will perhaps earn it comparisons to something like the popular American film Mask (1985), Mug is perhaps a bit too ephemerally acerbic for most. Yet it's a potent slice of sacrilegious daring, which allows a true sense of humanity to bleed into focus.
Reviewed on February 23rd at the 2018 Berlin International Film Festival – Competition. 91 Mins
★★★½/☆☆☆☆☆