Dementia Seed: James Concocts Brooding Debut of Intergenerational Horror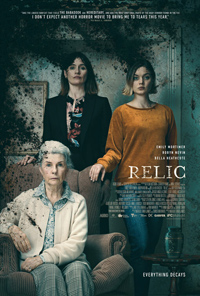 A growing influx of low-fi genre films, many directed by women, have steadily redefined broad categorizations of horror by returning to base fears and motifs for what should more aptly be labeled 'cinema of dread.' A stellar example of this type of slow-burn foreboding, which prizes characterization and metaphorical narrative subtexts, is the directorial debut from Australia's Natalie Erika James, Relic.
In league with recent items by Jennifer Kent and Ari Aster, James, like Rose Glass and Romola Garai, has concocted an art-house mood piece which recalls the 1940s era of Val-Lewton films, particularly those B-pictures directed by Jacques Tourneur, like Cat People (1942) or The Leopard Man (1943), which were predicated on horrific flights of fancy but depended upon imbalance and unease through the power of suggestion and the playful teasing of troubling imagery.
Edna (Robyn Nevin) has gone missing from her isolated country estate, prompting the authorities to call her daughter Kay (Emily Mortimer), who brings along her own daughter Sam (Bella Heathcote) to investigate. They find a house in disarray, with cryptic post-it notes throughout the interior, some featuring basic daily routines, others suggesting something more cryptic. Strange dreams plague Kay, and then suddenly, Edna returns as if nothing happened. A home visit from a physician merely reveals a slight bruise, but otherwise, Edna seems tip-top. But slowly, the cracks in Edna's mental capacity reveal themselves along with what seems to be a simultaneous mutation of the house.

Relic utilizes the dilapidated home of Edna as the visual configuration of dementia, its sagging walls and alternate interior spaces aligned with the woman's fractured psyche. Eventually, James' film falls victim to its own constrictions, stuck as we are inside the rotting interiors, but the first third of the film creates a formidable ambience of dread in the autumnal countryside, and Charlie Sarroff's exteriors are reminiscent of the Jose Ramon Larraz's obscure 1974 masterpiece Symptoms, in which mental unraveling threatens Angela Pleasance.
Asides with a Down syndrome afflicted neighbor boy deepen the thread of Edna's disjointed house and mind, which becomes personified when Bella Heathcote, perhaps sometimes underutilized, finds herself lost in this labyrinthine twilight zone. British star Emily Mortimer and Australian stage/screen notable Robyn Nevin ride crests of frustration, anxiety and eventually grief which provide Relic with a startlingly poignant undertone.
In its final frames, as a daughter comforts a decrepit semblance of her mother, Relic reminds us of the visiting alien in Jonathan Glazer's Under the Skin (2013), our outward appearances merely the superficial husk of a human façade. Sinews of intergenerational madness, suggested by a door once affixed to another home on the property, points to some interpretations of the inexplicable intersection of nature vs. nurture, but James, perhaps wisely, heightens the narrative ambiguity rather than providing clues which would explain it.
★★★½/☆☆☆☆☆