Nobody's Fool: Hartley Concludes His Grim Trilogy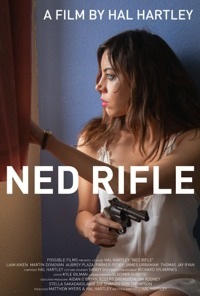 While it may be wholly unnecessary to see the two preceding films in the loosely knit Grim trilogy that Hal Hartley began back in 1997 with Henry Fool, at least in order to comprehend what's going on in Ned Rifle, the final chapter of the bizarre familial saga, your opinion of the previous installments will definitely help you navigate his typically odd universe. While all three films are similar in tone, this latest feels appropriately like an intermingling of the first two, filled with overzealous monologues that can easily be dismissed as arch pretense and a droll, deadpan wittiness that manages to be charming despite its highly artificial tableau.
About to turn eighteen, Ned Rifle (Liam Aiken) wishes to leave the haven of witness protection and reach out to his incarcerated mother, Fay Grim (Parker Posey), convicted of terrorist activities and serving a life sentence. His adopted father, Reverend Daniel Gardner (Martin Donovan) is against the decision, especially when Ned informs him he plans on tracking down his father, Henry Fool (Thomas Jay Ryan) so that he can kill him. He blames his father for what happened to his mother, you see. And so, after speaking with Fay, Ned turns to his uncle Simon Grim (James Urbaniak), the famed poet now turned online standup comedian who has money held aside for Ned from Fay's tell-all book deal. Arriving at the swank hotel his uncle is staying at, Ned meets a rather bizarre young woman in the lobby, Susan Weber (Aubrey Plaza). Susan has written a comprehensive thesis on her uncle's work and desires nothing more than to meet with him. As Ned grants her wish, they discover that Susan is connected much more closely to the Grim clan than any of them can imagination, thus commencing a road trip to hunt down the elusive Henry Fool.
Henry Fool won Best Screenplay at the Cannes Film Festival, which meant 2006's follow-up, Fay Grim had a lot to live up to. While the second installment was met with a mixed reception, it happens to be Hartley's most exuberantly enjoyable film, filled with bizarre narrative flourishes and a killer Parker Posey performance that proves the actress to be right at home in Hartley's strange landscapes. The third chapter, so titled for their son Ned, adopting the surname Rifle to dissociate himself from his jailed mother, feels like an intersection between its predecessors (like somewhere between a pompous Nobel Laureate and a naïve terrorist).
Those hoping for more Posey may be sorely disappointed since she's literally shackled into an extended cameo as the still incarcerated Fay. Liam Aiken, now all grown up, isn't quite the magnetic force of either her or Hartley regular Thomas Jay Ryan as his father, who has the tendency to come across as forced and overzealous. The heavy lifting is left to Aubrey Plaza, whose deadpan kitsch is appropriate for the material, though this doesn't seem much of stretch for her. She gets some of the film's best lines, "You'd think religions would teach their followers how the nonreligious operate,' she observes. In truth, Plaza and the returning James Urbaniak score most of the oddball laughs, including a running gag about her lipstick addiction.
For those familiar with Hartley, this now completed trilogy may represent his greatest achievement. Each installment stands on its own merits, but Ned Rifle may seem too eccentric for the uninitiated. Either way, love him or dismiss him, Hartley still sticks out as an actual original.
Reviewed on September 7th at the 2014 Toronto International Film Festival – Special Presentations Programme. 85 Minutes
★★★/☆☆☆☆☆