American in Peril: Dowdle Bros. Play on Base Fears with Survival Drama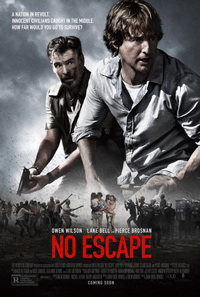 It's unfortunate so many superficial elements are working against the objective consideration of No Escape, beginning with its potentially problematic casting of an unwavering comic star as the lead in what promises to be a pulse-pounding thriller. Add to this a flurry of uneasy marketing elements, including dreadfully cheesy poster art, corny taglines, borrowing a title from a likeable 90's sci-fi flick starring Ray Liotta, and the potential of this latest effort from the Dowdle Bros. (Quarantine; As Above, So Below) promises the making of an undeniable turkey.
Despite all of these unfavorable buzz-killing aspects, the film manages to be an unfathomable rarity in that it manages to overcome all of these red-flag detractions as an uncomfortably tense survival thriller. Though not without a certain amount of quibbling in reference to its sometimes problematic 'truths', such as its presumptuous alignment with a legacy of Western cultural privilege, the Dowdles' have managed an impressive feat with their most enjoyable title to date.
Jack Dwyer (Owen Wilson) resignedly uproots his wife Annie (Lake Bell) and two young daughters to Southeast Asia after accepting a middle management position for a large corporation set to take over the country's water supply, supposedly in an effort to sanitize it (something the local populous isn't very excited about). After an arduous journey, the somber clan is barely able to check into their hotel before all hell breaks loose outside as the country becomes an actual war zone, with guerilla Thai factions targeting white foreigners specifically. Jack and his family are forced to flee the hotel and make their way to a safe zone.
Responsible for a handful of middling horror titles, ranging from Quarantine (2008), the remake of Spanish zombie flick [Rec], to the silly M. Night Shyamalan scripted Devil (2010), and last year's somewhat enjoyable found footage fluff As Above, So Below, director John Erick Dowdle and his co-screenwriter brother Drew Dowdle do seem innately interested in providing a particular brand of unsettling entertainment, though their ambitions aren't always matched by the limitations of their material. Originally known as The Coup during filming, the rather equivocally titled No Escape features quite impressively choreographed, blood curdling sequences that can only be described as terrifying thanks to their very realistic probability.
As far as performances go, both Owen Wilson (as many have pointed out, this is his first serious role since the 2001 John Moore film Behind Enemy Lines) and Lake Bell are effectively compelling, even in sequences that seem potentially ludicrous in retrospect, such as hair-raising stunt featuring children getting tossed like kittens from a rooftop. Less effective is the rather late incorporation of Pierce Brosnan, though it would be unfair to give away what exactly he's there for.
Subtle hints lead us to believe the guerilla group may be targeting the Dwyer family specifically thanks to his picture featured on his corporation's banner at their hotel, but this isn't explored for further dramatic effect. As a slice of (mostly) lean, potent, run-as-fast-as-you-can adrenaline rushes go, No Escape is tremendously effective. On the other hand, closer examination of the Dwyers' and the white privilege perspective of the film doesn't hold up as well, particularly since neither husband or wife apparently spent any time researching the current political climate of a country they verbally reference as 'fourth world.'
Countless natives are brutally shot, maimed, and violently murdered in front of our very eyes as the Dwyer clan makes a mad dash for the American Embassy, and it's almost impossible not to ultimately overlook our empathy for this individual family and focus on the peripheral vileness of nameless, faceless war zone casualties. Though ultimately more chilling than anything they've handled before, Dowdle Bros. seem to have at stumbled on a topical scenario as French director Nicolas Saada is set to unveil his latest film Taj Mahaal at the 2015 Venice Film Festival which documents an actual 2008 event very similar to the attacks depicted here. Even with problematic contexts, No Escape accomplishes exactly what it sets out to do, and should certainly make you squirm.
★★★/☆☆☆☆☆