Number One | 2017 Toronto International Film Festival Review
One is the Loneliest Number: Marshall Explores White Collar Gender Politics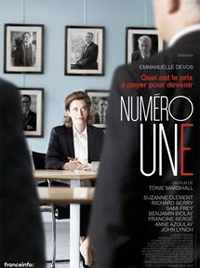 Gender disparity in the workplace is hardly unique to the American job market, as immediately exemplified in French director Tonie Marshall's ninth theatrical feature, Number One. Starring the luminous Emmanuelle Devos as the first potential CEO of a CAC 40 company (the indicator used to measure the performance of the Paris market, particularly the forty largest equities in France), the glass ceiling of the usual old boys' club finds itself groaning under the pressure of a woman finally awakening to the full magnitude of her potential.
Catty passive-aggressive maneuvers abound as loyalties shift between the candidates jockeying for the prolific distinction, while Marshall harnesses the dynamism of Devos to deliver one of her most substantial offerings to date.
After attending a women's forum, French executive Emmanuelle Blachey (Devos) is approached by a pair of powerful women (Suzanne Clément, Francine Bergé) who urge her to pounce on an upcoming opportunity to become the CEO of water-distribution company Anthea. By doing so, she would earn the distinction of being the first female CEO of such a prolific company, something Blachey doesn't seem passionate about, already a high-ranking (and sole female) at a prized French energy firm. But a series of events cause Emmanuelle to reconsider the offer, and soon she finds herself in the middle of an increasingly toxic tug-of-war between the women championing her and the white, heterosexual majority who wish to keep the status quo.
During her initial approach to be nominated for the Anthea CEO (a perseverant Suzanne Clément is mostly left to simmer on her on anxious hang-ups), Emmanuelle proudly sniffs, "I don't believe in female solidarity." The cynicism is hardly unwarranted, considering the film's opening moments featuring Emmanuelle in bustling in a crowd, distracted by a lascivious voicemail from an unknown male harasser as she's wantonly trampled by another woman who doesn't bother to apologize.
She bonds briefly with another observer, the two women giggling as they denounce the woman as a 'bitch.' Ironically, Emmanuelle is on her way to a consortium which will serve as a dramatic catalyst, although she avoids the motivational speeches and sidesteps the eventual offer she's fielded. But when her own boss offers to promote her to a more gender appropriate Human Resources position, where she will deal with 'male-female equality agreements' and ascend to the number four position with her company (a deal offered with a light caressing of the knee in the back of a car), the distinction of being a CEO of her own company suddenly seems inviting.
In several regards, Number One recalls The Love of a Woman, an early 1950s film which starred Micheline Presle, the mother of director Tonie Marshall. Presle starred as a doctor who takes a post in a remote village, where the men disrespect her, and eventually romance forces a choice between a career and a husband, as there could be no in-between. Six decades later, the situation may have evolved, but women across cultures and economic platforms are faced with the same issues. But the ugliness of the struggle is perhaps most evident at whatever zenith woman ascends to, especially if it's for the first time.
As superb as Devos is, many of her male counterparts are egregiously and conventionally sexist, including her main nemesis played by a snide Richard Berry, who gets one last jab with the dagger during an intermission of Tosca whereby he forebodingly teases "You're going to be lonely."
Benjamin Biolay has his fair share of covert moments as a 'double agent,' so to speak, but like most of the supporting cast, feels like a secondhand cog in the wake of Devos. On the other hand, Francine Bergé (Franjus' Judex, 1963; Losey's Mr. Klein, 1976) is a nice touch as the powerful figure orchestrating the ascension of Emmanuelle's nomination, as is Sami Frey (Band of Outsiders, 1964) as her ailing father.
Marshall often works with some of France's most distinguished actresses, best known in the US for her An Affair to Remember homage, the Catherine Deneuve headliner Nearest to Heaven (2002), or perhaps 1999's Venus Beauty, which circulated widely in the wake of the Audrey Tautou/Amelie craze. But with Emmanuelle Devos, Marshall captures not only a topical but potent portrait of the sacrifices unique to a woman's ambition in male dominated environments. While a script by Marshall, Marion Doussot, and Raphaelle Bacque doesn't seem to know how to gracefully land this venture (Devos' relationship with an Italian played by John Lynch feels like fretful figments of cliché), Number One is an enjoyable portrait of a formidable woman navigating modern misogyny.
Reviewed on September 8th at the 2017 Toronto International Film Festival – Special Presentations Programme. 110 Mins.
★★★★★½/☆☆☆☆☆