The Right Stuff: Muschietti's Floats to the Top with a Crack at King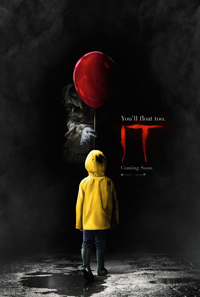 Often, cinema has not proven to be a kind vessel for the prose of Stephen King, perhaps the author most synonymous with what we consider to be "horror," his surname an invocation of the creepy crawlies going on five decades. One of his more celebrated novels was the 1984 epic It, wherein a deranged clown living in the sewers of Derry, Maine pops out every twenty-seven years to feed on the town's children before a hibernation period. While the complexities of the novel, which range from its children characters engaging in group sex (a segment left to the imagination in this latest version) and the origin story of its omnipotent monster, a shapeshifting force with serious existential shebang, have long been considered unfilmable, director Andy Muschietti (himself migrating a long way from his miserly 2013 debut Mama) at least captures the essence of King's novel, twiddling what's meant to be a first installment into a 1980s set novel of seven preteens who come together to battle the evil consuming their town.
While an infamous 1990 television miniseries from Tommy Lee Wallace (which starred a host of notable adult actors, like John Ritter, Richard Thomas, Annette O'Toole, etc.) has long been considered laughable save the supremely creepy turn from Tim Curry as a savage Pennywise the Clown (which inspired a cult following on its own), those yearning for a more substantial rendering of the classic horror novel should certainly be pleased, while those hungry for the kinds of auteur showboating seen in De Palma's Carrie or Kubrick's The Shining may be disappointed to find Muschietti streamlining the narrative into a predictable pattern simply exploring each child's innermost fears.
In October 1988, tragedy strikes the Denbrough family when little Georgie (Jackson Robert Scott) disappears in the sewers of Derry. Several month later, when school has just let out for the summer, Georgie's older brother Bill (Jaeden Lieberher) and his three friends, the loquacious Richie (Finn Wolfhard), the conservative Stanley (Wyatt Oleff), and the sickly Eddie (Jack Dylan Grazer), reservedly agree to help their friend explore parts of the sewer system in hopes of recovering Georgie's body on their own. They find themselves united with three additional loners who come from tragic familial scenarios, the chubby new kid Ben (Jeremy Ray Taylor), the slut shamed Beverly (Sophia Lillis), and Mike (Chosen Jacobs), belonging to one of the few black families in town, whose parents recently died in a tragic fire. As the seven of them commiserate about Derry's particularly gruesome history, which includes a rash of kidnappings every three decades or so, they eventually admit each of them has been visited by a threatening, red-haired clown named Pennywise.
In his heyday, King proved to be a formidable force when it came to his multifaceted child characters, many of his novels featuring kids trying to survive the abuses of their peers while suffering through dysfunctional or absent support systems at home. This latest version, which was originally developed as a project for Cary Fukunaga (who still retains screenwriting credit opposite Chase Palmer and Gary Dauberman) makes a valiant attempt to give each child equal development, but clearly gravitates towards the romantic triptych between Bill, Ben and Beverly (with Sophia Lillis stealing most of her scenes).
Fans of the troupe in "Stranger Things" should find much to love with a similarly vibrant dynamic here of 1980s youngsters invested in cinema of the day (Beetlejuice and Gremlins posters smile proudly out of Bill's bedroom) and pop music (The New Kids on the Block are a fitting metaphor for this 80s update). Finn Wolfhard as Ritchie and Jack Dylan Grazer as Eddie, the joker and the hypochondriac, are foul-mouthed perfection, kids who just discovered the joys of swearing but haven't quite grown into their groove.
The real testament of this updo of It is Muschietti's rendering of Pennywise, here played with gleeful finesse by Bill Skarsgard (brother of Alexander, son of Stellan). Whereas Tim Curry stands as perhaps the only real reason to revisit the 1990 series, Skarsgard blends more effectively into the mise-en-scene, a menacing presence underneath a more pronounced make-up design and advanced special effects.
Muschietti's greatest feat, however, is having South Korean Chung Chung-hoon's masterful expertise. The favored DP of Park Chan-wook (Oldboy; Stoker), Chung-hoon's concoction of youthful summertime nostalgia rightly conjures this bygone era of teen isolation, mixing wonderfully with editor's Jason Ballantine in several key moments (a segue from sheep to high-school students is one of their funnier, if obvious cues).
While we await to see how Muschietti manages the less predictable and harder to navigate portion of It dealing with its characters as adults (King's novel moves swiftly and constantly between his dueling periods), this is a good start. If perhaps it isn't nearly as daring as King's novel, capturing the tone and emotional essence goes a long way towards making this study on fear and trembling effectively entertaining.
★★★½/☆☆☆☆☆