Reviews
Nymphomaniac: Volume I | Review
The Girl Can't Help It: Von Trier's Indelible First Chapter a Sobering, Ruminative Examination of the Last Cinematic Frontier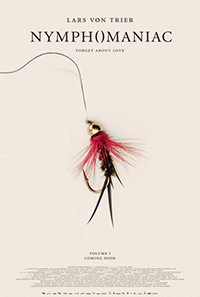 In today's modern world, where cinematic censorship is still alive and well within the euphemism of the rating system, provocateur Lars Von Trier's latest bag of infamy, Nymphomaniac Vol. 1, is a surprisingly powerful onslaught of culturally ingrained attitudes towards sexuality and acceptable representations of it. That is to say, it's not the exploitational grandstanding that one would expect if you have memories of Antichrist (2009) in the back of your mind. The first chapter in the last entry of his Depression Quadrilogy, it's a well-written, intelligent examination of erotic pleasure, comprised of several moments of explicit sexual imagery, as well as, of course, unvarnished discussions of sex.
Lying unconscious and bruised in a wet alley, Joe (Charlotte Gainsbourg) is discovered by Seligman (Stellan Skarsgard), who offers to call an ambulance. Joe declines that offer but asks for a cup of tea and some milk. Seeing she's in bad shape, Seligman take her to his home, where he puts her in the guest bedroom and tries to inquire what's wrong. At first reluctant, Joe becomes amused at Seligman's request, and thus, after warning us all of the length, begins the autobiography of her so-called existence as a bad human being, which revolves around her development into a nymphomaniac. This segues into flashback, beginning with her childhood with a cold mother (Connie Neilsen) and loving father (Christian Slater, who bonds with his daughter over a love of trees—anyone remember Bergman's The Virgin Spring?), and the discovery of what she loves to call her cunt. We run through a gamut of notable escapades, including her first shag (Shia LaBeouf, who pops up again in another chapter), as well as multiple regulars (including Nicolas Bro).
Couched in the narrator's self-castigation, Nymphomaniac represents the confusing juxtaposition of how our sexualities are allowed to operate. It's something innate to the human experience, yet something we've also been conditioned to believe is sinful, selfish, evil, dirty, and despicable (which are all views even more prevalent in the heteronormative realm). As far as the first volume goes, we've yet to see how Von Trier fleshes out the addiction component, and perhaps your own judgment or agreement with Joe's self-diagnosis as a nympho may mirror your own discomfort or limited views on the human capacity and/or need for sexual fulfillment (which certainly must be one of the director's main provocations). That's not say it isn't perfectly appropriate to feel unnerved by having to watch Shia LaBeouf engage in adult acts, but that's another bias altogether.
There's no doubt that this one of Von Trier's major works, an accomplished achievement that is, thankfully, neither titillating nor exploitational. Those attracted to the material for those purposes may be disappointed, as between bouts of fucking, there's much discussion between guilt ridden Joe and the pleasantly interesting Seligman, played by the droll Stellan Skarsgard in a film that oscillates between a sharply observed character study and an intelligent discussion comparing the pursuit of pleasure to fishing.
A varied cast, (not all of them make an appearance in the first volume, and for some reason Von Trier has a blue eyed young girl playing the preadolescent version of Joe), Gainsbourg once again headlines, though she's relegated to a narrator here, as Stacy Martin plays the younger Joe in the flashbacks. Skarsgard is surprisingly funny as her rather asexual, music loving savior. More questionable cast members like LaBeouf and Christian Slater manage to not be as distracting as you'd imagine, while a fantastic Uma Thurman steals the film in her scene as an angry wife and mother.
DP Manuel Alberto Claro reunites with Von Trier after Melancholia (he also works with Cristoffer Boe on nearly all his films) to create a much less visually expressive environment, subdued mostly because when we're not in a flashback, we're stuck in Seligman's cozy apartment. While this certainly feels like a Von Trier film, we're scaled back, perhaps to focus on the content, which gains its power in the considerable context Von Trier establishes.
There's something about Nymphomania that feels like a Catherine Breillat work filtered through the likes of Georges Bataille. Certainly, you won't find much by way of subtlety, but then, with this title and subject matter, one can't have it all. And thus, Joe, while embracing her sexuality and exploration of it, may seem to be a self-empowered female, master of her own agency, but even as we meet her here, she's beaten down in an alley, scarred and bloody.
A representative of the modern, sexually liberated female she is not, hence the stance of an addiction that's controlling and ruining her life. But, even as we're led like automatons between Joe and Seligman's ruminations, there does appear to be something deeper going about definitions and labels of what constitutes disease and addiction. Whatever the case may be, an intriguing two hours rushes by to a breathtaking cap that will leave you wanting to immediately begin the next volume, no matter how dubious you may feel leading up to it. The tagline reads, "Forget about love." But, no matter how hard we try to divorce love and sex, it's simply not that easy.
★★★½/☆☆☆☆☆