Reviews
Out of the Furnace | Review
Fire Walk: Cooper's Sophomore Effort a Somber, Fatalistic Malaise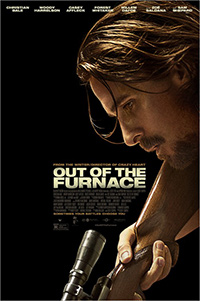 Director Scott Cooper returns with Out of the Furnace, his first film since his Oscar winning 2009 feature debut, Crazy Heart, working from a retooled script by Brad Ingelsby. Wearing us down with its man vs. fate inevitability, Cooper's film is clearly not out to surprise or shock. As predictable as its outcome may be, which feels like watching a slow motion train wreck, even an oddly emotional distance from all its supporting characters can't distract from Cooper's adept execution, giving us familiar characters in familiar scenarios via subtlety effective bits and pieces rather than being inveigled by showy flairs or hysterical melodrama. It's a film that's hard to love, and a rather obvious homage to Cimino's The Deer Hunter may distract more than enhance the narrative fabric. But regardless of all this, at its core it features a pair of heart rending performances that transcend the film's unsurprising terrain.
The economically compromised steel town of Braddock, Pennsylvania has the feel of a dilapidated shell, it's broken down store fronts and indefatigable steel mill akin to the hollowed out soul of Detroit. Russell Baze (Christian Bale), works in the mill, sharing care for his sickly father with the help of his uncle (Sam Shepard). Girlfriend Lena (Zoe Saldana) is a schoolteacher, and their life seems reasonable enough, their major drama generally centering around Russell's brother, Rodney (Casey Affleck), increasingly in more and more gambling debt, though Russell pays Rodney's bookie, John Petty (Willem Dafoe), in secret. A drunk driving accident which sees Russell killing several people, including kids, in the car he T-bones, finds him in prison. While serving time, Lena leaves him for local police officer Wesley (Forest Whitaker), and Rodney will end up serving at least four tours in Iraq, returning to get further into debt and begin bare-knuckle boxing in order to pay Petty. When Russell gets out, devastated that his father passed away while he served his sentence, Rodney gets involved with some dangerous rednecks from New Jersey, led by the ultra-dangerous meth dealer Curtis DeGroat (Woody Harrelson).
An expressly violent opening to Out of the Furnace introduces us to the degrading and malevolent DeGroat at a drive in theater showing The Midnight Meat Train, trash for the consumption of trash, and shorthand for delivering us into the realm of 2008, when times seemed dire and then suddenly worsened. While poster art and footage of 2008 election blurbs will undoubtedly bring to mind Killing Them Softly, the comparison to Dominick is also notable because with Out of the Furnace, Cooper joins a list of American directors like David O. Russell and even Derek Cianfrance, who utilize the same performers (and even cinematographer Masanobu Takayanagi, who worked on The Silver Linings Playbook). Each of them seems fascinated by narratives exploring emotional American hinterlands via cocktails of violence, generational toxicity, and (at times) inescapable apathy.
Even if there's an unerring fatalism in Out of the Furnace, the film manages to gain some hard earned effectiveness, particularly for a stellar performance from Christian Bale and a strong, volatile supporting turn from Affleck. Cooper seems to be modernizing The Deer Hunter in a few scenes, a tale of two brothers returning from dire circumstances (war, prison), and the inability to return to any sort of normal existence. While we're subjected to a similar hunting sequence as seen in Hunter, (here Bale, like De Niro, decides not to needlessly take the life of a living creature), a more inspired flourish is Cooper's juxtaposition of Shepard and Bale dressing a deer carcass while Affleck ravages himself in a tenuous bare knuckle fight. The deer will be consumed for the film's characters, the fur and bones left behind; Affleck's bitter, violent struggle is for the audience's consumption, hopelessness and a dulled persistent rage between the frames.
While several of the cast members don't quite make the mark you'd expect, particularly Shepard and Whitaker, the latter of which dons a gruff voice in an interesting turn considering it follows The Butler. Saldana seems a general afterthought until one particular scene, in which her Lena explains to Bale's Russell why she can't go back to him. It's a genuinely surprising moment, an exchange we've seen between people before under varying circumstances, but played to moving effect by the two performers here. Harrelson and Dafoe, while well cast, aren't really allowed to develop into anything beyond the minor dashes of adjectives that describe their archetypes. Harrelson, in particular, is as enigmatic as ever, but who or what is DeGroat exactly? He's akin to some malevolent demon residing in the dark hearted shadows, surfacing when conjured by the foolhardy. And while the film's third act suffers from some convenient flourishes (Bale's Russell blindly stumbles upon DeGroat's drugged up hovel a bit too easily), there's a definite emotional potency threading its way through Out of the Furnace, but faded out like a repetitive nightmare that won't go away.
Reviewed on November 9 at the 2013 AFI Film Festival – GALAS Programme.
3/5 Stars