Death Becomes Him: Larrain Resurrects a Dictator in Bizarre Black Comedy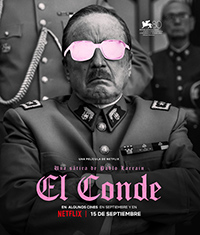 For his most subversive film to date (and likely the most beautiful and perverse deliberation on a dictator), Pablo Larraín returns to the subject of Augusto Pinochet, the unifying element of his breakout thematic trilogy (Tony Manero, 2008; Post Mortem, 2011; No, 2012). Strange can't rightly describe this narrative, co-written by his regular scribe Guillermo Calderon, channeling some of the same elements from their 2015 collaboration The Club. In short, this portrait of Pinochet imagines the dictator as a 250 year old vampire, purportedly who has made a decision to die, therefore allowing his five human children to claim their rightful inheritance. As narrated by a highly critical and droll English female narrator, whose eventually revealed identity represents one of the film's greatest flights of nasty fancy, with El Conde, Larraín's concocts a gonzo, frenzied narrative which might be one of the most beautifully shot B-movies ever made.
After a rash of heinous murders are committed in Santiago, the five adult children of Augusto Pinochet (Antonia Zegers, Amparo Noguera, Diego Munoz, Marcial Tagle, Catalina Guerra) travel to the island where their father, an aged vampire, lives in exile with their mother, Lucia (Gloria Munchmeyer). A narrator informs us Pinochet was actually born a vampire in France, having served Louis XVI just prior to the French Revolution. Having staged his own death, Claude Pinoche immigrated to Chile, rising through the military ranks to become General, and then overthrow President Allende in the infamous 1973 coup d'état. When he was eventually voted out of power following the 1988 Chilean national plebiscite, he faked his own death again. With his children fearing this recent rash of murders will be traced back to their father, they arrive to assist his apparent wish to die, leaving them a purported inheritance, scattered in a disarray of illegal documents he's retained. One of his children hires an exorcist nun, Carmen (Paula Luchsinger) to pose as a CPA and get his assets in order. But Carmen has her own strange agenda, as does the mysterious narrator, observing omnipotently from afar.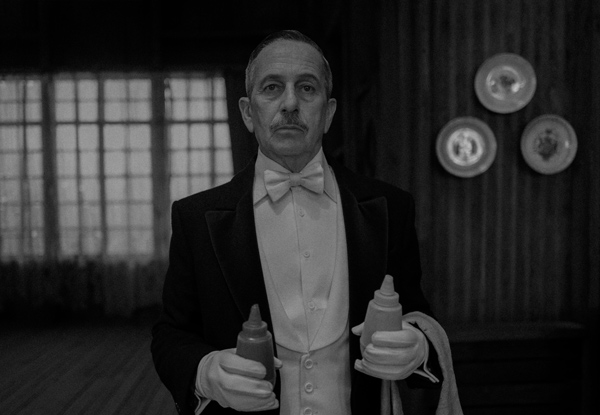 Brutal carnage is inflicted on random victims of Santiago during vampiric night flights, their hearts ripped out to be blended into thick, sludgy smoothies, formulating enough violence and gore to make this, for all intents and purposes, a queasy horror film, even if Larrain doesn't ever tap into the actual real-life atrocities waged against Pinochet's people and the terror which gripped the nation for almost twenty years. In fact, as the vampiric Pinochet, Jaime Vadell somehow seems the friendliest member nesting in this pit of vipers. Alfredo Castro entertains as his Renfield-like assistant, a white Russian named Fyodor whose bloodlust hasn't abated, apparently.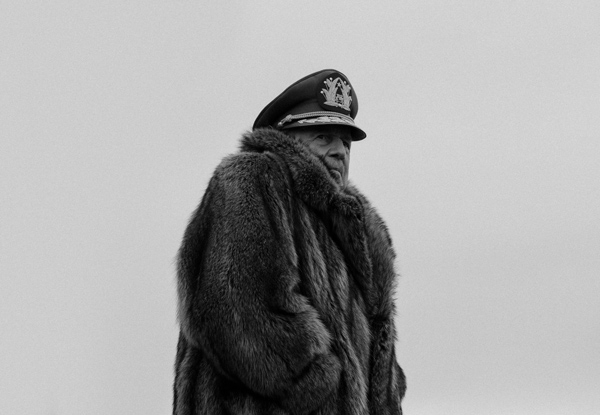 Of the children, only Antonio Zegers and Amparo Noguero stand out in this entitled brood (though Guerra, notably, is Munchmeyer's daughter in real life). Where the narrative begins to feel a bit messy is through the use of the exorcist nun played by Paula Luchsinger (Ema, 2019), apparently so committed to her lord and savior she's willing to become a vampiric mistress and sell her soul to the devil in order to accomplish her mission. What's missing are some pertinent connective tissues to make us feel anything beyond a baseline repulsion for all of these characters, and one wishes Carmen had been allowed a greater empathetic dimension, something along the lines of Laurence Olivier's Nazi hunter in The Boys from Brazil (1978).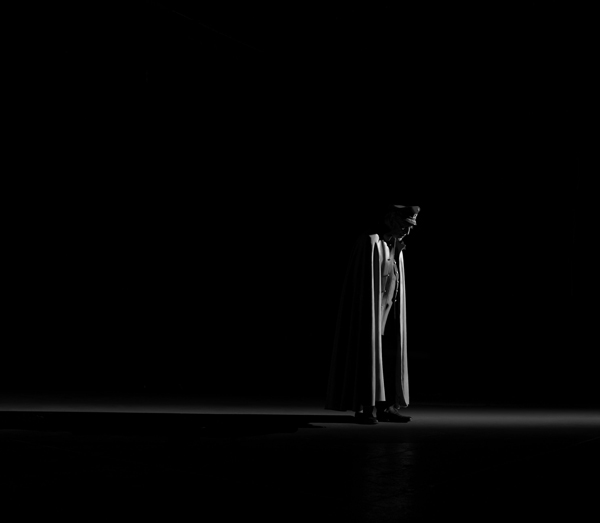 Larrain taps expert DP Edward Lachman to create some formidable, even breathtaking frames, utilizing close ups rivaling Sven Nyqvist's work with Bergman, and then sensual vistas along the lines of Emmanuel Lubezki and Malick. There's additionally a striking reverberating presence whenever Pinochet and Carmen encounter one another, suggesting his seductive powers transcend even the visual, and makes El Conde an imperative theatrical experience. For those intrigued by its fascinating logline, El Conde will certainly impress, maybe even invigorate. But beneath its surface beauty, it's (perhaps purposefully) a dark, eternal void.
Reviewed on August 31st at the 2023 Venice Film Festival – In Competition. 110 Mins.
★★★½/☆☆☆☆☆