En attendant la nuit (For Night Will Come) | 2023 Venice Film Festival Review
I Was a Teenage Vampire: Rouzet Insists the Family That Slays Together Stays Together
For her narrative feature debut, En attendant la nuit (For Night Will Come), Céline Rouzet jumps into a growing trend of vampiric coming of age narratives, a familiar if satisfactorily brooding exercise about a family who believes they can control the chaos of their child's violent condition. Employing Elodie Bouchez as a devoted matriarch, Rouzet builds on the inevitable tension inspired by this dysfunctional clan doomed to lose control in this bid to overcome nature by nurture, for, as the title implies, darkness is destined to descend upon them. Ultimately, Rouzet isn't conjuring anything innately new as regards the desires of her characters or the impetus for communal outrage when confronted with differences (and the corresponding reactions driving good intentions into the bosom of monstrosity). But it's an intriguing and well performed exercise determining the drastic lengths unconditional love can inspire.
Laurence (Bouchet) and her husband Georges Feral (Jean-Charles Clichet) have recently uprooted their family to live in a sleepy, French town in the late 1990s. Their preadolescent daughter Lucie (Laly Mercier) is happy-go-lucky, but hardly oblivious to her parents' reasonings pertaining to her seventeen-year-old brother, Philemon (Mathias Legout Hammond), who was born with the need to suck blood while also being averse to sunlight. But it's nothing heavy clothes and a dark hoodie can't assist with. While it's not clear why they had to move, it appears Laurence's ability to find work as a phlebotomist had something to do with the decision, the woman who had previously held her position forced out of work due to an injury. The blood Laurence can pilfer from work means her son will never have to be reduced to acting on his innate animal impulses. But their plans are thrown into disarray thanks to Philemon's budding relationship with Camila (Céleste Brunnquell), a classmate who responds to his subtle advances despite being in a relationship with a ringleader of mindless miscreants.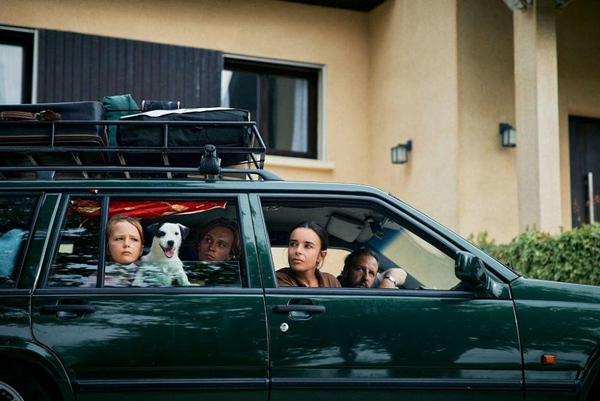 There are interesting comparisons one might make between something like For Night Will Come, showcasing a middle class white family's attitudes towards protecting their potentially dangerous child, and the Black working class father in Luca Guadagnino's Bones & All (2022), who abandons his similarly ill-fated daughter to the wilderness when he realizes her impulses cannot be controlled. From an outsider's perspective, the ironically named Feral clan's workaround for rearing their vampiric son is laughable, and much more brazen then the family in another recent film, My Heart Can't Beat Unless You Tell It To (2020), where a bloodsucking kid is virtually sequestered within the family home.
Matthias Legout Hammond makes his film debut as Philemon, whose attraction to the pretty and dangerously curious girl at school ultimately leads to his undoing. It's juxtaposed with Laurence being caught stealing blood at work, and at last, the family is pushed to the point of no return. At least in their current community. Like the incestuous mother-son feline aligned aliens of Stephen King's Sleepwalkers (1992), one might assume they've already been in this position before, forced to flee to another quiet community until they've exhausted their good luck.
As a child actor, Bouchez has previously played roles of both ally to the outsider (Techine's 1994 classic Wild Reeds) and the down-and-out resilient drifter looking for love in Erick Zonca's celebrated The Dreamlife of Angels (1998). Here she's the familial glue holding everything together, laser focused on sabotaging blood samples at work so she can freely collect them during her shift. The result is she never quite fits in with her affable co-workers, who find her prone to making too many mistakes. Much like Bones & All, this is a period piece, the bulk of the action taking place circa 1997, before a constant state of surveillance would make the survival of someone like Philemon all the more dangerous, if not impossible. At least according to the methods utilized here.
The doe-eyed Camila is attracted to Philemon's strangeness, and he shares with her a reverence for the tragic rock and roll singer Vince Taylor, while they bond over video rentals. She poo-poos The Exorcist (1973) but clearly fantasizes about Philemon as a surfer from Brittany (the family's fake cover story), renting Point Break (1991). Music factors forcefully in For Night Will Come, particularly with a moody score from Jean-Benoit Dunckel and an interesting use of Petula Clark's "La nuit n'en finit plus," which translates to 'the night never ends," while Courtney Love's iconic rage in Hole's "Violet" christens the end credits with the film's odd mixture of eternal anguish and its continuation.
Reviewed on September 6th at the 2023 Venice Film Festival – Horizons. 104 Mins.
★★★/☆☆☆☆☆