Licorice Pizza [Video Review]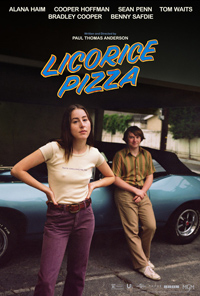 Age is just a number but when you're a teen at footsteps of what are unattainable gates to adulthood it could feel like entire football yard lengths distance. For his ninth feature film, Paul Thomas Anderson is just as tangibly next level with his choices but offers a narrative that is audaciously less complex, open, perhaps itinerant and very apropos for what amounts to intertwined significant and forgettable moments lodged in this nostalgia trip opus. Licorice Pizza features a large name cast but first-timers Cooper Hoffman and Alana Haim (with whom Anderson has collaborated with on Haim's music videos) are never eclipsed. Backed by MGM, this will slowly expand until a holiday full release. Here is Nicholas Bell's review:
Film Credits:
Producers: Paul Thomas Anderson, Sara Murphy, Adam Somner.
Executive producers: Jason Cloth, Aaron L. Gilbert, Daniel Lupi, Susan McNamara, Joanne Sellar.
Director: Paul Thomas Anderson.
Writer: Paul Thomas Anderson.
Camera: Michael Bauman. Editor: Andy Jurgensen.
Music: Jonny Greenwood.
Cast: Alana Heim, Cooper Hoffman, Sean Penn, Tom Waits, Bradley Cooper, Benny Safdie, Joseph Cross, Christine Ebersole, Mary Elizabeth Ellis, Skyler Gisondo, Harriet Sansom Harris, John Michael Higgins, John C. Reilly, Maya Rudolph.