The Price of Everything | Review
The Difference Between Price And Value: Kahn Seeks Answers To Unanswerable Questions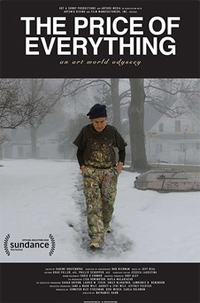 The modern art world has been inexorably bound to the whims of collectors and curators for the past few decades, seemingly now more than ever. A travesty to some, a natural evolution for others, this companionship dictates the temperamental price of contemporary art and defines how that art is to be truly valued moving into the future. Nathaniel Kahn has gained unprecedented access to numerous art personalities and the works they all revere, to dive headlong into a community where everything is sold and traded like Wall Street stocks. The Price of Everything is a candid participatory investigation buttressed by massive and eclectic troves of knowledge and opinion that delight and infuriate in equal measure.
With its primary narrative tracking the progress of the world-class Sotheby's Auction House in New York City preparing for its latest mass sale of contemporary art, the film spotlights prolific artists such as Jeff Koons, Larry Poons, Njideka Akunyili Crosby, and Marilyn Minter (among several others) to dissect their philosophies and observe their creative processes. Similar questions on why art sells for what it does, what factors determine this particular price tag, and what can be defined as art are posited to some of the most esteemed art critics, owners, dealers, and curators in the world, as well as those running the impending Sotheby's auction. Though this exclusive community routinely reinforces their wide array of determinations as "upside down", what truly is on trial here is the fashion of collecting. Seeing the acquisition of art as active involvement in this community by many, the contemporary art world has become defined by luxury branding (rather than the wills, wishes, and efforts of the artists themselves).
Kahn's inquisitive voice is often heard from behind the camera, probing all of his interviewees with increasingly difficult questions, trying to hammer down some tangible truths that flit about in the ambiguousness of what constitutes good art (though never calling judgement on anything that is discussed). The impressive vastness of visual material competently shot by cinematographer Robert Richman (Tony Robbins: I Am Not Your Guru) complements and expands on each interview, bringing each individual's perspective to vibrant three-dimensional life.
Composer Jeff Beal's playful score, along with an agglomeration of classical appropriated tracks, manage to keep the film light-hearted on its surface, especially in moments when the business of art overtakes the actual creativity, something that can easily offend art purists. The incredibly talented editors Brad Fuller, Sabine Krayenbühl, and Phillip Schopper bring all aforementioned aspects together into a tautly-crafted final cut defined by its smooth pacing, extensive use of montage and collage, and a consistently enjoyable tone.
The collaboration, conflict and separation between artists, curators and collectors are explored via several different avenues, through all resolve themselves at the same place: art is art, and that's why things are the way they are. A destination that was expected from the get-go, though it makes it no less miasmic. Kahn's direction fails to highlight any unique revelations that haven't been explored in previous documents, such as Lisanne Skyler's Brillo Box (3¢ Off), but he is utterly sincere and produces quite possibly the widest-reaching scope in a single documentary capturing the whys and wherefores of the modern art world. Impeccably craft, defined by genuine love and unfettered curiosity of its subject, The Price of Everything revisits many age-old questions through previously underexplored and fascinating perspectives.
Reviewed on January 26th at the 2018 Sundance Film Festival – U.S. Documentary Competition. 98 Minutes
★★★★/☆☆☆☆☆