Defector Becomes Him: Fiennes Revisits the Westernization of Rudolf Nureyev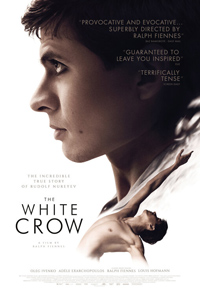 There's much to admire in the third directorial outing of actor Ralph Fiennes with The White Crow (the least of which is his impressive navigation of speaking in Russian), a coming-of-age biopic of sorts concerning the golden days of famed ballet icon Rudolf Nureyev and his dramatic defection in 1961. Fiennes' previous outings include his 2011 tackling of Shakespeare's lesser known Coriolanus (which features a fantastic Vanessa Redgrave performance) and 2013's expose of Charles Dickens' affair with a younger woman (an impressive Felicity Jones). His latest is no less ambitious or inspired, modeled after Julie Kavanagh's Rudolf Nureyev: The Life, and yet seems to be missing some fundamental energy apparent in his previous outings (as well as a signature standout performance which has marked his previous two films). While focusing more intensely on one specific chapter of the dancer's career, Fiennes juggles too many elements, including a variety of childhood flashbacks and a tepid romantic fling with a Parisian socialite, which sometimes confuses, distracts and derails the film's inevitable arrival at its pièce de résistance.
Opening with his birth aboard a Siberian train in 1938, we skip ahead to the decisive moment in famed Russian dance Rudolf Nureyev's (noted dancer Oleg Ivenko in his screen debut) life, his defection in Paris in 1961, just as he was finishing his first allowed stint in the West with the Kirov Ballet. Flashing back to six years previous, when the seventeen-year-old (a noted late starter) Nureyev became a protégé of ballet guru Alexander Pushkin (Fiennes) of the Vaganova Academy of Russian ballet, the dancer's extreme ego seemed to be his worst enemy, leading to varying degrees of consequences from the Soviets designed to keep him in his place. Once in Paris, he develops a tempestuous friendship with bored socialite Clara Saint (Adèle Exarchopoulos), who warms to the dancer despite her engagement to the son of the French Minister (a connection which comes in handy at a timely moment). Bucking the close watch of his Soviet wards, Nureyev's impudence proves to be an imperative strength as he strives for his creative freedom.
Beautifully photographed by British DP Mike Eley and enhanced by Anne Seibel's period production design and Barney Pilling's film editing, there's no doubt this is a handsomely crafted package. Several dance sequences, including moments showcasing the haughty impatience of Nureyev in his rehearsals in Russia are arresting to behold. Likewise, kudos on Fiennes' casting choices—though he steps in as the reluctantly supportive instructor Pushkin, Fiennes has allowed for actual Russian and French actors to occupy most of the culturally specific supporting roles. Unfortunately, most of them don't get a chance to make an impression, the exception being a sole sequence with Nadezhda Markina (the lead from Andrey Zvyagintsev's exceptional 2011 film Elena), here playing a Soviet bureaucrat sparking Nureyev's ire when she informs him he must pay the Mother Land back for his schooling by performing in his country's communist hinterlands.
And as Nureyev, newcomer Oleg Ivenko conjures the physical appeal and essence of the dancer, while his performance hovers along the script's byline, which depends heavily on showcasing his rebellious petulance and extreme narcissism. By exposure default, most of the French players appear more recognizable, with Raphaël Personnaz shuttered into a thankless Baxter role. Likewise, Olivier Rabourdin plays a small but instrumental role in the film's finest moment, the infamous defection in Le Bourget Airport.
Fiennes does include Nureyev's gay romance in Russia—however, like many of his increasingly unnecessary childhood flashbacks, it isn't information used to strengthen his adult relationships. For instance, there's no real ambiguity developed between the platonic friendship between Personnaz as Pierre Lacotte and Nureyev, and yet it's definitely a dynamic which overshadows the stilted relationship developed between the dancer and Adèle Exarchopoulos' blasé socialite (among Nureyev's many instances of eluding his guard dogs in Paris were excursions to gay bars, though his sexuality is extremely downplayed here). In Exarchopoulos' defense, the material doesn't give her anything to do, but it's another of the actress' growing list of disappointments ever since her vibrant breakout in 2013's Blue is the Warmest Color.
If anything, The White Crow, a nickname for Nureyev which Fiennes makes an effort to divulge is a colloquial phrase to describe someone who stands out from the crowd (an English equivalent would be a 'black sheep'), perhaps would have or could have been more passionately told from a distinctly Russian lens rather than a rather subjective and arguably apathetic investment laid out by Fiennes (as he did with The Reader, screenwriter David Hare gives this a decided British slant).
The doggedness of the Soviet Union's devotion to Communism and the formidable unease with the West during the height of the Cold War gets lost in rote cliché—with the exception of Pushkin, the film's Russian characters are mere puppets of a political machine while its French characters are superficial ideations of bourgeois elitists. But for all the fumbling back and forth of The White Crow, Fiennes brings this two-hour plus narrative to a stimulating and tense crescendo at Le Bourget Airport, and one wishes the build-up to this well-played moment had been as equally persuasive and compelling.
★★½/☆☆☆☆☆