Year of the Comet: Waugh Weighs the End Times in Disaster Thriller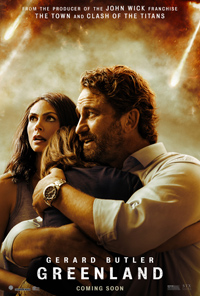 "A comet careens into Earth and Gerard Butler is not having it" is more or less the gist of Greenland, the latest from stuntman turned director Ric Roman Waugh, reuniting with his lead star after their test run in Angel Has Fallen (2019), the third entry in the Has Fallen franchise.
Their latest outing is a bit more enthusiastic though no less derivative than countless disaster epics which focus on extinction level events waged by the heavens. What's perhaps most interesting in this latest approximation are troubling assumptions and taken-for-granted assertions of contemporary American realities, even though it's a popcorn flick hardly interested in its own trail of debris.
Successful Atlanta architect John Garrity (Gerard Butler) is mired in a persona dilemma, trying to get into wife Allison's (Morena Baccarin) good graces and move back into their picture perfect cul-de-sac. Their son Nathan (Roger Dale Floyd) is happy to see his father return for a get together orchestrated by Allison, and while shopping for libations, the news stories about a comet named Clarke, which has been on course to nick Earth's atmosphere but burn up immediately, were apparently incorrect. As larger and larger pieces of debris crash into the planet, it becomes clear the comet poses an extinction level event for mankind. But as this picture begins to take shape, John learns via a Presidential alert on his phone and flat screen television he has been designated for safety, along with his family, by the Department of Homeland Security. When they show up to board an aircraft which will carry them to an underground shelter in Greenland, the family members are separated when Nathan's diabetes bars him from holding a spot on the vessel.

Strangely, time and time again, Greenland presents the Garrity family as rather unworthy participants in America's survival scheme. Much like in Passengers (2016), the US government has pre-selected survivors based on their skillset, which isn't necessarily a foolhardy back-up plan, but more or less the critique waged upon other fascist entities striving to keep the interests of state above those of the individual citizen. Resentment of designated survivors takes a dark turn when little Nathan is kidnapped (which includes a surprise supporting bit from Hope Davis) in one of the film's minor subplots—but is one of several moments where Chris Sperling's script, arguably inadvertently, poses questions about with whom our sympathies should really lie.
Earlier, Baccarin's Alison berates a military Major (Merrin Dungey, who also happened to be in the 1998 disaster epic Deep Impact) about looking the other way to save her son only to be forced to realize those assigned to assist her have already been forced to forsake their own family's survival in the line of duty. Eventually, John and Allison will inhibit a cargo plane (piloted by Holt McCallany) from taking off with a load of passengers so they can board, even though the plane is already beyond weight capacity, endangering and compromising the lives of others.
In short, the Garrity's are a complex problem with our notion of what humanity's supposed to look like. Sperling tries to assuage the hopelessness by presenting some bit players who are so egregiously inane in their behavior they might as well be robots, like a man who instantly bonds with John after informing him of the Canadian passage to safety or a nurse who's so unfrazzled by the hordes of clamoring citizens trying desperately to secure access to an airbase and has the wherewithal to prepare Allison and Nathan a care package and arrange transportation to their desired destination.
Scott Glenn is on hand as Allison's father, a gruff mixture of patriarchal stereotyping and corny cliches (he really likes to make pancakes) and is utilized to drive home the 1950s notions of marriage which harangue the troubled couple (if you didn't guess, John strayed one time from the marital chamber). Why Glenn's Dale, and as we realize earlier, the whole Garrity neighborhood, is privy to John's shameful infidelity is another weird underlying motif which makes Greenland so oddly estranged (like many mainstream films) from realistic human composites (and ensures this is a lot closer to Sperling's script for The Sea of Trees than his notable breakout in 2010's Buried).
While there might be some gripes about the film's unenthusiastic CGI, Waugh gets the intent across, though this is nowhere near enjoyable as his ripe, under-the-radar B pictures like Snitch (2013) or Shot Caller (2017). Its elitist strain is reminiscent of the narrative for 2012 (2009) but is about as disaster-epic fluff as San Andreas (2015) and miles away better calibrated than another Butler flick, Geostorm (2017).
★½/☆☆☆☆☆