Une Femme Est Une Femme: Taylor Tries Temptation in Derivative Neo-Noir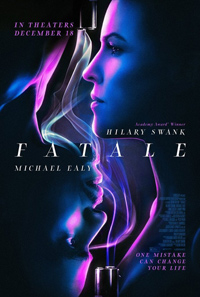 Infidelity, yet again, provides the impetus for a conveniently staged adult contemporary thriller from Deon Taylor in Fatale, reuniting with scribe David Loughery for a retrofit which tries to meld Adrian Lyne and Alfred Hitchcock. At times, its twists and turns feel unexpected, potentially ambiguous, before eventually devolving into something a bit more illogical and predictable, mainly for its lack of strong characterization—something which could have maintained the entertaining suspension of disbelief.
Still, an intriguing cast headlined by Hilary Swank and Michael Ealy elevates the offering above some of Taylor's more recent forays into this territory and serves as a reminder of how easily enjoyable these pseudo-erotic potboilers can be.
Derrick (Ealy) is the head of a successful, independent Los Angeles based brand management agency he built from the ground up following a promising run with basketball in his youth. However, his commitment to his career has hobbled the relationship with his wife of seven years, Traci (Damaris Lewis), made clear as his business partner Rafe (Mike Colter) announces his own engagement. A bachelor party in Las Vegas takes a turn when the neglected Derrick removes his wedding band and has a rendezvous with Valerie Quinlan (Hilary Swank), a woman who seems to be nursing her own wounds. Lying about his identity and where he lives, Derrick never expects to see her again…but when a violent burglary attempt forces him to call the police, she shows up as lead detective. Assuming this was purposeful, Derrick doesn't realize how close some of his real enemies are. And Valerie backs him into a tight corner so he'll accept an insidious proposition of her own.

One tagline for Hitchcock's classic Strangers on a Train (1951) could have easily been dusted off for Fatale – "A stranger who was in search of a sensation – and knew where to find it!" heralding a perfect fit for the Las Vegas extramarital catalyst. Lyne's Fatal Attraction (1987) formula is the bait and switch for Hitchcock's (or rather, Patricia Highsmith's) 'stranger' scenario, which operates on sheer coincidence.
Swank's Det. Valerie Quinlan is played for sympathy, and while the esteemed actor elevates this portrayal with requisite gravitas, her battle with alcoholism, neurosis and the eventual serial killing of Black people is unfortunately absent or underplayed. Ealy, on the other hand, is straightjacketed into the same milquetoast format of victimized masculinity, redeemed of any real complicity not unlike Michael Douglas in any number of 1980s/90s films which saw him assailed by a woman scorned. The racial paradigm shift often engaged in Loughery's scripts (Lakeview Terrace; Obsessed; The Intruder) continues to be intriguing, but the execution always seems to stop short of actually realized anything subversive as pertains to its juxtaposition of white and Black characters and their struggle to utilize available power plays according to their position in a white, heteronormative patriarchy. As such, Ealy (as he was in the Jacob's Ladder reboot and Taylor's camp offering The Intruder) is denied any real persona, merely an excusable template of manhood being acted upon.
Interesting soundtrack choices, including a Keith Sweat theme, bolsters the tone. And Taylor scores some visual cues with DP Dante Spinotti (L.A. Confidential, 1997 and celebrated Michael Mann cinematographer), specifically in its genre moments, like the lavender hued Las Vegas club scene (compare this to something like a similarly styled sequence in the recent Fatal Affair, 2020) or when Swank finally devolves into extreme madness with a shotgun hidden in her bathroom ceiling.
Unfortunately, none of Loughery's narrative tricks move beyond derivation, including the tangent involving Derrick's ties to his troubled past, personified through his cousin Tyrin (Tyrin Turner of Menace II Society, 1993), a wild card Det. Quinlan doesn't anticipate (much like the Denzel Washington and Ice T. dynamic from 1991's Ricochet). A whole slew of supporting players seem abandoned by Taylor's guidance or general interest, including Mike Colter as another unlikeable charlatan, Damaris Lewis (of BlackKklansman, 2018), Kali Hawk (of "Black Jesus," appearing in only one scene) and Geoffrey Owens as a stalwart attorney. Danny Pino as Swank's unpleasant ex-husband perhaps bears the brunt of the rough edges, especially facing off with the likes of his accomplished co-star (it would have been grand to have at least one sequence where she isn't accosting him outside his well-groomed lawn).
Overall, Fatale is another intriguing package from Taylor, coming off of Black and Blue and The Intruder (both 2019), despite falling short of narrative expectations.
★★½/☆☆☆☆☆