Ride of Passage: Hunt's Belated Sophomore Effort Crests Waves of Cliché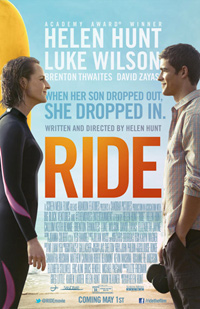 Perhaps the most surprising element of note in Helen Hunt's Ride is the fact that this is her sophomore directorial effort following the 2007 debut Then She Found Me. While the previous film was adapted from a celebrated novel by Elinor Lipman, Hunt concocts her own original scenario here, serving as director, screenwriter, star, and producer. Painfully pedestrian and awkwardly rendered, Hunt's film devolves into a nagging, ho-hum situational dramedy that spends entirely too much time focused on its anal-retentive protagonist's break from an elitist shell of pretension rather than the central relationship upon which the narrative's flaky emotional core is hinged.
Jackie (Hunt), a single, overly determined mother that works as an editor at The New Yorker, is about to see her 18 year old son Angelo (Brenton Thwaites) off to college. But upon going to visit his estranged father in Los Angeles, Jackie discovers that Angelo dropped out of his program without informing her. Dropping everything she heads off to Southern California to confront him, only to find that her son has been harboring a deep-seated resentment towards her. He doesn't necessarily want to be a writer, something she's groomed him to be. He's interested in surfing, something she could never do. Rather than head back home as he advises her, Jackie throws herself into learning to surf, employing a full time driver (David Zayas) to cart her around and a local surf instructor (Luke Wilson).
A promising beginning skirts immediately into obnoxious territory as we get an anxious montage of the very busy, very important Jackie at work and at the gym where she swims (alert: character tic) without getting her hair wet. Character actors in supporting roles are either demeaned by Hunt's gross caricatures (like the idiot boss played by Richard Kind), trapped in unnecessary stereotype (David Zayas' perpetually on-call private driver), or just plain pointless (Callum Keith Rennie as a California writer type who likes to hang with hipster youths and sell them drugs).
For a film about writing, Ride is curiously underwhelmingly written, and sans an affectionate opening sequence with mother and son, Thwaites is equally forgettable in this tale about a woman's unwillingness to adapt and change. But Hunt seems determined to make Jackie as obnoxious and unpleasant as possible, and without granting her a narrative that properly defines transformation. And, for the record, Hunt's highly altered visage doesn't help matters, only adding to the film's off-putting sense of vanity and self-involvement. An exaggerated harpy of a person lost in her predicament of self-made, first world problems, we're supposed to feel empathy for this rigid woman, but she's never granted any emotional authenticity. Often, Ride feels like the sort of brittle, fragile, yet intelligent woman that Jodie Foster would have once outfitted for herself. The one sole, emotionally authentic sequence is where Hunt manages to pull off a superb reenactment of the giggles while smoking a controlled substance (itself rather a cliché in modern indie films depicting women of certain class, age, and race).
A forced romance with the game Luke Wilson certainly doesn't help matters, playing another man used and abused by the female that will eventually congeal into a romantic interest. The film's exact problem lie in the disinterest the script has with the Thwaites' character. Ride needs more of his character and less of Wilson's. As this plays out, Jackie just seems to desire some kind of male figure to occupy her personal time, and simply replaces the neediness she has for her son's attention with that of the man teaching her how to surf. As Jackie advises her son as he confides his trouble in finding the perfect ending to the story he's writing, whatever he writes, it must be inevitable and surprising. Guess which one of these things Ride is not?
★½/☆☆☆☆☆