The Quiet Canadian: Pront Returns to the Woods with Canadian Thriller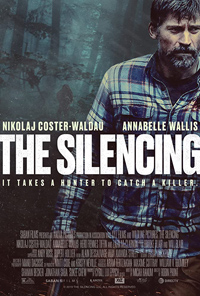 Belgian director Robin Pront reveals his fixation with rural neo-noir in sophomore film and English language debut The Silencing. With both title and extravagantly macabre but finicky murders reminiscent of past gloriously grisly whodunits such as The Silence of the Lambs (1991), Pront's footing on Canadian soil feels less self-assured than his moody 2015 debut The Ardennes (read review). A pair of fine performances from its lead actors makes the over churned narrative a bit more palatable, but the script from first time scribe Micah Ranum feels as overstuffed as it is derivative, focusing on loose strands and red herrings when stronger character development could have allowed for a greater sense of empathy and anxiety for the damaged denizens of a rural Canadian hinterland.
Rayburn (Nikolaj Coster-Waldau) was once a notorious hunter, now reduced to the shell of a man he once was, working as a ranger preventing others from hunting on a wildlife sanctuary. Five years prior, his daughter was abducted, which ruined his marriage. Just as his wife moves on with a new relationship and desires to have their missing daughter declared dead, the corpse of a young woman, her larynx seemingly removed, is discovered in the small Canadian community. While he's relieved the woman is not his daughter, the discovery sets off a chain of events. The new Sheriff Gustafson (Annabelle Wallis) now has a homicide investigation on her hands, which is jeopardized by her younger brother, local miscreant Brooks (Hero Fiennes Tiffin). While the Sheriff is afraid Brooks might somehow be involved and seems willing to compromise herself to assist him, Rayburn sees something frightening on the elaborate surveillance he's placed on the sanctuary, and sees what he believes to be a heavily camouflaged hunter in pursuit of a scantily clad young girl.
Pront's biting debut focused on backwoods Belgian brothers living in the titular terrain of The Ardennes, where the vicious realities of violence and survival were apparent in every frame. To be fair, Pront inherited the property from director Anders Engstrom, a director well-versed in television, and thus perhaps had less of a hand in crafting the scenario from scratch.
Nikolaj Coster-Waldau continues to impress with another insular, brooding and broken protagonist, and one can count his portrait of Rayburn as a growing testament to his presence, following on other indie and arthouse titles like Shot Caller and this year's No Exit from Jonas Arnby.
If only we got to spend just a little more time examining his transition from a notorious hunter to the ranger charged with protecting a wildlife sanctuary perhaps the film could at least have sported some statements about mankind's lust for hunting quelled only through personal trauma (not unlike the De Niro character in Cimino's The Deer Hunter, 1978). The same goes for Annabelle Wallis' newly minted Sheriff, a woman who makes questionable choices thanks to desperate allegiances and formidable guilt, often presented merely as mechanisms to tie the narrative efficiently into a charging Choo Choo Train of inevitability.
And perhaps this is what marks The Silencing particularly unsuccessful in tone or mood because it never takes a breath, never lets us rest in discomfort or trepidation. By the time the film's culprit is revealed, with motives a bit too flimsy to take seriously, we're left with all kinds of questions about significant details, which ultimately negate the film's reason for existing in the first place. At the same time, it's a beautifully photographed study in winter land peril, shot by the best arthouse genre cinematographer working, Manu Dacosse (Alleluia, 2014; Evolution, 2015).
★★½/☆☆☆☆☆