Random Acts of Violence | Review
The Violent Bear It Away: Baruchel Turns Murder into Art with Fragmented Debut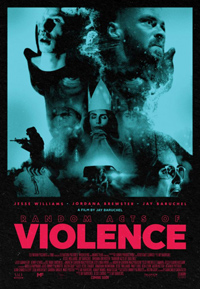 An exercise which navigates the oft-blurred lines between art and exploitation, actor Jay Baruchel turns to the director's seat with his debut Random Acts of Violence, adapted from the graphic novel by Justin Gray and Jimmy Palmiotti.
Although it features Jesse Williams in a lead performance and mines some interesting subtexts, there's an overall sense of incompleteness to a narrative which can't quite deliver on the moody, self-reflexiveness it promises.
Todd (Williams) is the successful author of a violent comic book series, "Slasherman," which details the rampage of the I-90 killer, a criminal who was never apprehended but left many victims from 1987 to 1991. Now on his final issue of the series, Todd is unsure of how to give his property a fitting end. Going on a signing tour from Toronto to New York with his girlfriend Kathy (Jordana Brewster), who has been inspired to concoct her own project meant to honor the victims of the I-90 killer, Todd hopes the right ending will develop itself. With manager/friend Ezra (Jay Baruchel) and his girlfriend Aurora (Niamh Wilson), who also serves as coordinator and illustrator, in tow, the quartet immediately runs into conflict at a local radio station when Todd is challenged about his exploitative creation. And then, it seems, the I-90 killer makes an inexplicable return.

Much of Random Acts of Violence plays like either vintage Stephen King or Dean Koontz, a narrative crafted on a horror writer plagued by his own Pygmalion. A major reveal of the narrative tends to make a specific case for what's going on in the film's universe and somewhat negates the overriding contention of art vs. exploitation. But the meritorious talking points on the arguable detrimental effects of glorifying perpetrators while ignoring or forgetting their victims are hobbled by salty dialogue which is too pointed, too on the nose. Arguments between the diametrically opposed Todd and Kathy don't do any favors for either actor vocalizing them, often devolving into obvious diatribes, such as Kathy screaming "You fetishize evil!" Wherever these more thought- provoking elements were headed, they're derailed by the arrival of its killer, whose onslaught, of course, is anything but random.
Still, Williams manages to be enjoyable, despite being directed into over-the-top hysteria thanks to a mélange of warring elements for the climax, while supporting players tend to feel a bit rote, including Jordana Brewster and Jay Baruchel, who strangely casts himself in the same limited role as a sidekick/friend/manager who remains largely undefined. Lensed by Karim Hussain (who also shot Brandon Cronenberg's impressive Possessor, 2020), Random Acts of Violence has a fitting texture of putrid pallor and gangrenous environs, which lends the whole affair a rather sickly sheen akin to gritty, grungy 1980s palettes.
★★½/☆☆☆☆☆