My Tender Matador | Review
Pray Away the Pinochet: Sepulveda Cruises Castro with Striking Adaptation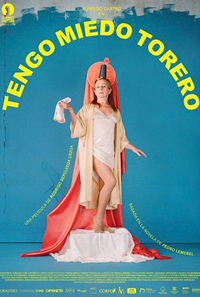 While there's a bounty of burgeoning directors who have grown out of the New Chilean Cinema (aka Chilean Cinema of the Democracy), the most notable face to be featured across last decade's films has to be Alfredo Castro, mostly thanks to his continual appearance in the works of Pablo Larrain. But Castro has headlined a variety of Latin American cinema offerings from a variety of different countries, including several remarkable queer films.
The second feature from Chile's Rodrigo Sepulveda, My Tender Matador, finds Castro returning to Chile, this time as a tattered transvestite struggling to survive the last several years of Pinochet's violent dictatorship. Based on the 2001 debut novel by Pedro Lemebel (famed writer and activist who died in 2015), which is set in 1986, this quiet queer romance is a subversive recuperation from the waning phase of a particularly harrowing season of darkness.
Referred to in his neighborhood as La Loca del Frente (Castro), and shunned as an aging transvestite in the oppressive shadow of Augustin Pinochet, he's a resilient survivor, having just made it through another raid at a gay night club which claimed the life of another friend. Helping him escape the police raid is Carlos (Leonardo Ortizgris), a handsome young rebel from Mexico who quickly announces his allyship. La Loca provides his phone number, though it actually belongs to his neighbor Dona Olguita (Amparo Noguera) the only person with a phone in his neighborhood who also happens to be a haltingly kind individual. Carlos is keen on a favor, asking if he can store boxes of books at La Loca's apartment. He obliges, of course, not realizing the boxes of books all contain guns and ammunition since Carlos is a revolutionary. Though he's scared, his attraction to Carlos overrides this initial fear, even though their relationship's dynamics will soon play out to their eventual conclusion.

Castro, of course, has portrayed many a diverse constellation from the Pinochet area, such as the trio of characters across Larrain's Pinochet Trilogy, but he's also played several striking queer characters, such as the lonely older john in Lorenzo Vigas' From Afar (2014) and the persuasive prison ring leader in The Prince (2019) from Sebastian Munoz. His turn as "La Loca del Frente," or "The Crazy Woman of the Front" is his most flamboyant and sensitive to date. Opening on a violent police raid of Club Slaughter, where his friend is murdered while performing Peggy Lee's "Fever," the narrative quickly turns to a painfully one-sided romance wherein he finds herself being used/useful to the young revolutionary Carlos. And therein, My Tender Matador takes on a similar vibe to something like Lina Wertmuller's Love & Anarchy (1973). Eventually, it's made clear Carlos is manipulating him, despite the transgression of some boundaries suggesting a deeper connection.
The unrequited love amongst the squalor and turmoil transpires authentically, from a near obsessive reawakening for Castro's lonely personality living on a dark periphery, but played with a seriousness and finesse which eludes the kind of dismissiveness often defining queer characters challenging gender norms.
There are similarities with other recent queer Latin American narratives, like Marcello Martinessi's The Heiresses (2018) from Paraguay or Brazil's Greta from Armando Praca, all which detail entanglements doomed to fizzle out but are reinvigorating and meaningful for characters whose voices have been historically erased or demeaned in the cinema from each of these respective countries.
Mexico's Leonardo Ortizgris (who co-starred with Castro already in 2018's Museo) plays Carlos with just the right touch of ambiguity as relates to his potential attraction to Castro's generosity. Edging into the narrative are a wonderful variety of familiar Chilean faces as La Loca's friends, including Sergio Hernandez and Luis Gnecco (not to mention many of these actors, including Castro and Amparo Noguera as the neighborhood phone owner, appeared in Sepulveda's 2014 title Aurora).
When Carlos chastises La Loca for her apparent disinterest in the revolution, he responds, "If there's ever been a revolution that includes us, let me know." And unless it's been a movement from the queer community's own making, the answer is no—but this inspired recuperation of Lemebel at least recreates another rare opportunity to revisit the queer spaces and lives forgotten by both the oppressors and the liberators.
Reviewed virtually on September 2nd at the 2020 Venice Film Festival. Venice Days – 93 Mins
★★★½/☆☆☆☆☆