Crime Time: Scalpello Skirts the Underbelly in Generic, Capable Thriller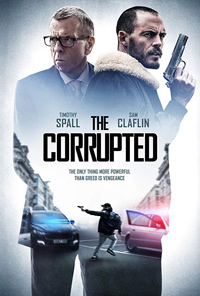 We've reached a point where something like The Corrupted, the latest offering from Britain's Ron Scalpello, a violent and narratively convincing showcase of considerably nefarious designs of colluding cops and criminals, has come to seem a bit old-fashioned. Ably performed by a cast of some formidably notable talent joined by contemporary stars, there's nothing essentially wrong with Scalpello's latest, curiously written by Nick Moorcroft (best known for his St. Trinian's comedies a decade or so prior). And yet, there's nothing to make this remarkably compelling or eventually memorable in the mind's eye, which may explain why it's taken so long for the title to travel stateside, only to be unceremoniously plopped into an early January limited release. Still, for those who prize a decently proficient B-movie thriller about ex-cons, crooked cops and unconscionable criminals, you'll get your fill.
In a set-up easy enough to digest, Liam McDonagh (Sam Claflin) is recently released from prison, and immediately begins to ingratiate himself on his ex-wife and son as an attempt to reestablish their relationship. Unfortunately, Liam's brother Sean (Joe Claflin) has affiliated himself with vicious crime lord Clifford Cullen (Timothy Spall), a man who had a hand in their own father's demise. Sucked back into the criminal underworld, where a gaggle of wayward policemen are inextricably intertwined with Cullen's brood, Liam finds support from a tenacious detective (Noel Clarke), though neither are aware just how deep the corruption goes.
Scalpello, who has navigated between a variety of different types of film, from the boxing bio My Name is Lenny (2017) to Danny Huston and Matthew Goode trapped on the ocean floor in Pressure (2015), revisits similar territory to his 2012 debut Offender, wherein another handsome white lead (Joe Cole in this instance) pursues vengeance by manipulating the criminal justice system. The template is familiar enough for comparison with Moorcroft's screenplay, which plays like the no-nonsense, poker faced version of Donald Westlake's famed Parker character, released from prison to pursue payback from the seedy crime syndicate which invisibly pulls all the societal purse strings. Only, Moorcroft's premise is sans the punchy genre flair of a Westlake.
Sam Claflin, who's recently been dispatched to play a variety of menacing and or outright diabolical villains of late (Elizabeth Banks' Charlie's Angels; Jennifer Kent's The Nightingale) conveys a sturdy portrayal of an ex-con struggling to stay straight, so to speak, casting a shadow over real-life brother Joe Claflin. However, there's something inescapably inchoate about his Liam McDonagh—sure, he's desperate to regain the trust of his ex-wife and son, but there's little to define this characterization, which is a man who logically responds to the pressures the narrative places upon him.
A handful of notable character actors provide the colluding factions of cops and criminals, from David Hayman and Hugh Bonneville to Noel Clarke (Philip Ridley's Heartless; Neil Marshall's Centurion), who is featured heavily in the plot. But if there's any real pleasure to The Corrupters, it's a sallow-faced Timothy Spall as the callous criminal whose penchant for violence and mayhem knows no bounds—before the narrative sets itself in stone, Moorcroft's script does allow for some rather unexpected flourishes, such as Spall sweet-talking a merchant into signing over the deed to his business with an empty bag of cash before coldly murdering him.
★★½/☆☆☆☆☆