The Discomfort of Strangers: Trocker Collapses Paranoia and Perspectives in Brooding Familial Drama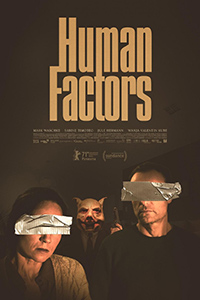 Communication, when you really think about it, is all but impossible. Words incorrectly used or misconceived when tied to complex interactions (such as body language or an endless possibility of contextual information) are further hobbled when juxtaposing cultural lenses, and such is an underlying motif in Human Factors, the sophomore feature from Ronny Trocker. A German-Italian-Danish co-production built on the troubled relationship of a long-married French-German couple finds their increasingly evaporated façade brushed aside in an exercise which recalls Haneke but feels more like Harold Pinter.
Underlying dread is evident in nearly every single frame, which, on the surface suggests everything is more or less okay. Insular lead performances from the astute actors portraying the lead couple go a long way towards selling this broody melodrama's intensity.
Nina (Sabine Timoteo) and Jan (Mark Waschke) run a successful advertising agency. Although both are lynchpins of the company, Jan has gone against Nina's wishes and hired a political candidate whom she fears will court controversy. The situation motivates them to visit their seaside vacation home with their two children, teen Emma (Jule Hermann) and younger brother Max (Wanja Valentin Kube). But shortly after arriving, a troubling home invasion of which Nina is the only real witness throws any efforts of relaxation into a tailspin. Who came into the home and why? Is it related to the client Jan foolishly hired? Eventually, their sentiments prior to taking a vacation assist in shedding light on their moods and mind frames to explain how perspective might be a complex amalgamation of various contexts, with no one allowed a chance to see the bigger picture.
Trocker's timeline is what allows for Human Factors to uniquely examine an otherwise straightforward disintegration of a middle-class couple whose values have seemingly shifted in opposite directions. We're fed bits and pieces of information like a puzzle, not unlike Paolo Virzi's Human Capital, in which several conflicting perspectives explain actions and interpretations of events. One angle is a husband and wife from different origins, and another is how their detachment from their children (potentially representative of a new generation, whose interests are so alien they're an inverse of the faux stability imagined by the adults) solidifies an ignorance of the world they're simply unable to comprehend.
We're treated to the catalyzing burglary, or intrusion, rather, from the outside in, only eventually drilling down to the sole witness, who was Nina. We go back to the period before the off-season vacation. The successful ad agency built by Jan and Nina has come to a crossroads when Jan accepts a new politically controversial client. As Nina had vowed never to allow the company to be mired in political grandstanding, she sees this as an opportunity to leave, without communicating such a decision has been in the back of her mind for some time. This precipitates an alarming event at work, and thus sets the stage for why and how their home invasion potentially had ambiguous origins. Eventually, Trocker adds another layer concerning the affiliations of their angsty teen daughter and then the perspective of a pet rodent's unfortunate demise.
Initially, Human Factors promises the terror of Haneke's Funny Games (1997), but Trocker's interest seems to tease and avoid significant indictment (and to that end, investment) of his characters. While the audience is eventually privy to the truth of the matter, it's really the understanding of Jan and Nina, eventually persuaded to draw their own conclusions, which is most fascinating. A strange game seems to be taking place. Either the invasion was an insidious act of terror against the couple, a fantasized paranoia conjured by the logistics of the house or maybe a combination of both. Either way, it highlights the secrets, however mundane, husband and wife keep from each other to maintain an even keel at home. At first nothing adds up until we realize Human Factors is perhaps crystal clear, the obvious answers to all our questions and theirs lurking in the unhappy sentiments of people who prefer to brush everything under the rug for all the wrong reasons.
Reviewed on January 29 at the 2021 (Virtual) Sundance Film Festival – World Cinema Competition. 102 Mins.
★★★/☆☆☆☆☆