In the Fog Mirror: Vasyanovych Punishes with Numbing Exercise on War & Trauma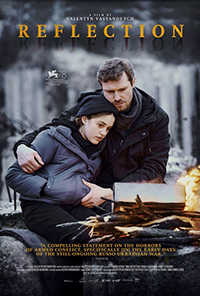 Following up on his international breakout, Atlantis (2019), Ukrainian director Valentyn Vasyanovych returns to the paralyzing aftershocks of armed conflict in Reflection, a bleak onslaught mining PTSD experiences from the ongoing war between Russian-backed separatists and the Ukraine.
Setting up a series of mirror images in both his narrative and visual motifs, as the title ominously also suggests, it's a painful observation of a nation's suffering through the microcosm of a singular protagonist. The pronounced effect, after over two hours of punishingly lengthy frames, recalls Stalin's famous quote, "A single death is a tragedy; a million deaths is a statistic." Sure to test the resiliency of any audience, both for its brutality and austerity, Vasyanovych has an ability goad us into disturbing but necessary contemplation past the final credits of a grueling, beautifully shot film.
Like the duality of the two protagonists in Larisa Shepitko's The Ascent (1977), we're introduced to Serhiy (Roman Lutskyi) and Andriy (Andriy Rymaruk), our first set of mirror images. Serhiy, a surgeon, has veritably been eclipsed by Andriy, his ex-wife's (Nadia Levchenko) new partner who has taken over most of the responsibilities of fathering their child. They gather to celebrate his daughter Polina's (Nika Myslytska) birthday, notably a paintball tournament. Serhiy seems dwarfed by Andriy's masculinity, who is on brief leave from fighting in the conflict zone, swilling booze as paintballs pepper the plexiglass behind them, a rehearsal for actuality.
Seemingly pressured by his daughter, who implies his work as a surgeon isn't as noble as Andriy's, Vasyanovych skips ahead to Serhiy's capture by the Russian military, where he is saved by his profession. There he witnesses extreme savagery as the Russians torture captured Ukrainian soldiers. Eventually, Andriy ends up in their clutches, subjected to the worst of their methods. Before his body can be incinerated, Serhiy makes a deal with the driver of the disguised traveling crematorium so he can retrieve the body when he is freed. Time passes, Serhiy is exchanged, and returns home expected to resume life as normal.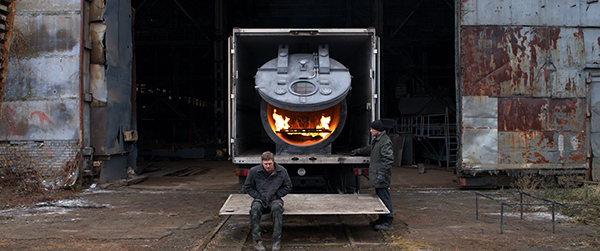 After the harrowing first leg of Reflection ends, Vasyanovich enters a placid pace of long takes, where Serhiy is left alone with his experiences, threatened by the Russians to enduring silence on the experience. He slowly begins to usurp the position occupied by Andriy, taking Polina on horse riding lessons and buying her the drone she was promised. The most evocative imagery is of a bird flying into Serhiy's window, overlooking Kyiv's skyline, smacking the spot her feet are placed during her stretches. The bird's body leaves an imprinted outline, a haunting reminder of its fate. Polina is bothered by the dead bird, but Serhiy's reaction is more telling, staging a funeral for the creature, burning it on a funeral pyre using the torn pages of children's bible.
If many of the static frames seem taxing, they're broken up with moments of surreal action, such as a pack of feral dogs who appear to chase runners in the woods, where Serhiy sneaks off to for clandestine phone calls to retrieve Andriy's body. The dogs take him down in their second appearance, as if even nature is hellbent on punishing Serhiy for his attempts at heroism.
While Atlantis was set in the near future, Reflection begins in November of 2014, the year the conflict began—-both films, despite the narrative demeanor, suggest hope in holding onto purpose. Stylistically, this is a far-cry from another new film directly addressing this ongoing war, Loup Bureau's documentary Trenches, which also depicts Ukrainian soldiers on the front line. Vasyanovych, serving as his own cinematographer, reflects the cruelty and beauty of humanity, those corresponding flip sides of humanity.
Reviewed on September 7th at the 2021 Venice Film Festival – Main Competition. 125 Mins
★★★★/☆☆☆☆☆