The Showgirl and the Driver: Beatty's Romantic Reconstruction of Eccentric Entrepreneur's Latter Days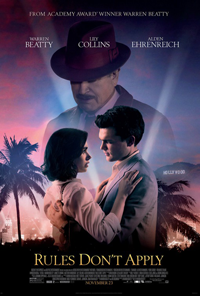 Considering his iconic contributions and sterling reputation in cinema, breaking out over fifty years with his big screen debut in Elia Kazan's Splendor in the Grass (1961), it's astounding to note Warren Beatty has only acted in twenty-two features, including his latest, Rules Don't Apply, which happens to stand as his fifth outing as director. The last time Beatty was in front of the camera was fifteen years ago, in Peter Chelsom's derided box office bomb Town & Country (2001), and it's been even longer since the star mounted his own directorial project, the last being 1998's political comedy Bulworth (1998), a film which still seemed satirical until just a little under a week ago. Although nowhere near the splendor of his Oscar winning epic Reds (1981), which snagged him a Best Director statue, Beatty reconstructs one of famed aviator/director/industrialist/entrepreneur Howard Hughes' most eccentric periods as the backdrop for a hampered romance between two bit players caught in his gigantic orbit during his mid-1960s legal battles with TWA and the construction of a new plane amidst mounting accusations of his dwindling mental capabilities. Mixing notes of nostalgia with a parody of not just Hughes' outlandish behavior but the cultural mores of the period, it's a welcome return to the screen for Beatty both in front of and behind the camera.
In 1958 Hollywood, small town beauty queen Marla Mabrey (Lily Collins) arrives with her mother in tow (Annette Bening) to become one of many young ladies held under contract by the unpredictable and eccentric billionaire genius Howard Hughes (Warren Beatty). One of Hughes' drivers, Frank Forbes (Alden Ehrenreich) is smitten with Marla, and despite her deep religious convictions (she believes since Frank consummated his relationship with a woman played by Taissa Farmiga, he's technically already married in the eyes of God), they allow their attraction to grow. But Marla gets caught up in a difficult situation with Hughes, while Frank is invited into the man's confidence, an opportunity he relishes in order to satisfy plans he has for a considerable real estate venture. However, Hughes' number one rule is no employee of his is allowed to have a relationship with a contract actress, and eventually Frank and Marla find their romantic feelings at odds with their realties.
Beatty's aim isn't to provide a knowing composite of Hughes, at least not along the lines of Scorsese's 2004 biopic The Aviator, which attempted to capture the essence of the man before he became an invasive enigma. Rather, this is more like Walter Matthau as Albert Einstein in Fred Schepisi's I.Q. (1994), wherein a famous figure provides a serio-comic backdrop for two youthful lovers to spark romance. But Beatty's screenplay doesn't successfully mesh the billionaire's presence with those of his subordinates, other than his monolithic shadow cast over and controlling all their destinies (Matthew Broderick and Candice Bergen have little to do but mug), until they no longer allow him to do so. We learn very little of him in this treatment, other than his increasing paranoia and OCD behaviors causing his reclusiveness, while a struggle to reconcile unresolved feelings for his father causes a certain tug and pull with various advisors and other staff.
Lashing out with childlike temper tantrums, those hired to keep his best interests in mind (here personified by brief supporting turns in the form of Martin Sheen and Alec Baldwin) eventually become frustrated stand-ins for the voice of authority—and by doing so, are promptly dismissed. "I'm still more of a son than a father," he tells his steadfast driver, a likeable and period adept Alden Ehrenreich (who is less caricature here than in the Coen Bros.' Hail, Caesar! and proves to be a likeable male lead). However, why Hughes takes an immediate shine to Frank is never really justified beyond being the right guy with the right temperament available at the right time.
Considering Rules Don't Apply is really requesting its audience to become invested in the growing attraction between Fred and Marla, their romance is a pale echo in the wake of something like Damien Chazelle's La La Land (2016), which is a contemporary set Hollywood fantasy utilizing vintage cinematic musical tropes (think The Umbrellas of Cherbourg modified for current day Los Angeles) to paint a magical portrait of brief but meaningful romance. Beatty's film exemplifies the extreme religious tone dictating the choices and actions of rural newcomers to the promising City of Angels (Taissa Farmiga, and her parents played by Amy Madigan and Ed Harris, seem to exemplify the limitations of Fresno as not just a place, but a state of mind), and there is unshakeable, even awkward self-awareness in many of these sequences.
Beatty's wife, Annette Bening, has a handful of charming moments early on (looking fantastic in 1960s buttoned-up Baptist regalia). As charming as Ehrenreich is, Lily Collins has a harder time culling the naiveté and effervescence of Marla Mabrey—following her first interaction with Hughes, there is a giddy sequence which should promote Mabrey's astonishment but instead plays shrill and insincerely.
DP Caleb Deschanel manages to make 1960s Los Angeles (as well as several other locations, including London, Acapulco, Nicaragua) into a painterly, nostalgia tinged portrait of the era (which includes lots of close-ups during driving scenes). However, four credited editors (Robin Gonsalves, Leslie Jones, Brian Scofield, and Billy Weber) create a unique flow of sequences which sometimes allows Rules Don't Apply the transitional comparisons to Woody Allen, arguably from his 1980s period. Several sequences, on the other hand, feature some dialogue in which the sound mixing seems notably off.
Reviewed on November 10 at the 2016 AFI Film Festival – Opening Night Film. 127 Mins.